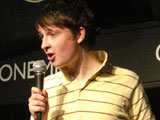 Yes, a few days ago the Brit Awards happened. A supposed nod towards the best in British and International music. When I heard Laura Marling had won I thought that the Brits possibly had some credibility. Then I heard Justin "Horseman of the Apocalypse" Bieber had also won an award. I had to sign myself up for some serious invasive surgery to get over that one.
Let's look at the eventual winners and nominees.
Best British Single
Winner: Tinie Tempah – Pass Out
I can't really complain about this one. I don't hate the song. Personally I would have given it to Florence and the Machine "You got the Love" which isn't even the best song she released. Plan B "She Said" deserved to be nominated as well. My problem comes with the rest of the nominations. How Matt Cardle of X-Factor fame can be nominated for a truly awful cover version of Biffy Clyro's "Many of Horror" is beyond me. Cheryl Cole, Alexandra Burke and Olly Murs were also nominated. Is there nowhere I can go without reminders of Simon Cowell's stronghold on the music industry? It's starting to make my soul bleed.
Best British Male
Winner: Plan B
A decent enough winner, although when you see that Paul Weller and Robert Plant were also nominated it does make you question whether Plan B really is in the same category. Newly albino Mark Ronson and Tinie Tempah made up the numbers.
Best British Female
Winner: Laura Marling
Well done Brit Awards. Something to be pleased about. Laura Marling's album I Speak Because I Can is stunning, and blows anything that fellow nominee (and fake tan overdose) Cheryl Cole has done, out of the water. Hopefully this will boost her fan base and introduce her to a new audience. Ellie Goulding was another worthy nominee after having a great 2010, with Paloma Faith and Rumer also in the category.
Best British Producer
Winner: Markus Dravs
Having worked on Mumford & Sons' Sigh No More and Arcade Fire's The Suburbs you can't say this wasn't well deserved. Both albums have huge quality in them and both bands would go on to win awards. Laura Marlings' producer Ethan Johns, John Leckie who produced the Stone Roses debut and The Coral's most recent offering were also nominated along with Mike Pela and Stuart Price.
Best British Album
Winner: Mumford & Sons, Sigh No More
Thankfully the Brits got another decision correct in giving Best Album to Sigh No More. The XX may have been close but either album is miles ahead of Disc-overy, which I originally read as Disc-Ovary and thought Tinie had made a concept album about the struggles of the womb. Take That and Plan B were also nominated.
Best British Band
Winner: Take That
It's taken 21 years, a break up, a reunion and a Robbie Williams for them to win this award. As much as I really want to hate on them, I can't. For a pop band, they're more credible than any of the other ones around, and indeed have been for the vast majority of their career. Up against actual music bands Biffy Clyro, Mumford & Sons, Gorrillaz and The XX, it was one of the most credible groups of nominees at the ceremony.
International Awards
Arcade Fire took home 2 awards, and deservedly so, for Best International Group and Best International Album with The Suburbs. How The Black Eyed Peas got a nomination I will never know. After watching them in the Superbowl halftime show, I actually completely understood why people join Al-Qa'ida. As one tweeter put it – "it was like a Nazi parade set to music". Cee Lo Green won Best Male, with Rihanna receiving the equivalent female award. How I hate her. Finally, Justin Bieber won Best International Breakthrough Act. I don't know why. I just hope that when his balls finally drop, they drop so low that he constantly steps on them, and thus giving him the same pain that I suffer every time I hear his songs. Also nominated were the truly amazing The National (although how they are considered as "breakthrough", I don't know). I don't know if I would be more upset if the Glee Cast would have won it, as they have literally just taken other peoples material, and made it into what I can only describe as a new form of biological weapon, being used for mass genocide in years to come.