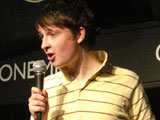 As it's recently 2011, every radio station, blog, newspaper and trendy kids with beads are telling us who their top ten acts of the future are. But what about the current stars of the chart? Northern Noise's favourite comedian Daniel Savage casts his verdict on some of the acts he'd like to see less of.
5. Rihanna
In at number 5 is the star from Barbados. Rolling Stone magazine rated her first album 2.5 out of 5 stars, something that I think is a reasonable rating of her whole back catalogue. Her constant, repetitive, over played songs are filling up valuable space in teenagers heads that could probably be better used to remembering to put a condom on. Hearing an 11 year old girl singing "come on rude boy, boy, can you get it up?" is one of the most depressing moments of my life.
She also performed on X-Factor, an automatic fail. However, this cancelled itself out by causing outrage at the Daily Mail offices, which is automatic pass. So, instead of being shit and on X-Factor, she's just shit.
Began with: "Pon de replay", 2005.
Biggest success: "Umbrella" was number one for ten consecutive weeks in the UK.
Recent Offerings: Her songs "Rudeboy", "What's My Name?" (which the mysterious 'Oo Na Na' refuses to answer), and latest single "S&M" seem to imply that we are all horny, middle age couples, desperate to find new ways to spice up the bedroom antics which hide the deep hatred and regret lurking underneath.
Choice Lyrics: "Sticks and stones may break my bones, But chains and whips excite me"- S&M.
Do they Rihanna?? If you liked all that rough stuff you shouldn't have complained about Chris Brown's antics after you burnt the dinner.


4. JLS
The group that didn't win the X-Factor and a walking advert for All Saints. They seem to consist of one who can backflip, one who you instinctively want to punch (could be any of them), one who looks like he's made of plasticine and the other who gets to sleep with the girls that the others don't want/already have.
Began with: "Beat Again", 2009.
Biggest Success: Their debut album "JLS" went 4x Platinum.
Recent Offerings: "The Club is Alive" managed to anger me even more by incorporating the most ridiculous Sound of Music tribute ever. Other singles continue to be generically 'Urban' with quite pointless dance routines.
Choice Lyrics: "If I died, yeah would you come to my funeral, would you cry?" – Beat Again.
No I wouldn't. I would carry on with my day, maybe see a film, maybe watch the sunset, draw a picture of a jealous parrot, happy in the knowledge that JLS had already died in my head years before it happened in reality.


3. Piers Morgan
I couldn't write about people I would like to see less of without putting Piers in somewhere. Nothing to do with music, but that doesn't stop the fact that I should never have to see or hear him again.
Began with: Editor of "The News Of The World" in 1994. Which, at 28, made him the youngest editor in more than 50 years.
Biggest Success: In 2007 he fell of a Segway and broke three ribs.
Recent Offerings: "Piers Morgan's Life Stories" was his attempt at hard hitting interviews. This was judged on how many tears his guests released during the programme. "Life Stories" failed completely as a good piece of television as half of the guest were yet to have a life at all. All we managed to find out was Kelly Osbourne used to take drugs, Cheryl Cole/Tweedy has had a divorce and Ulrika Jonsson is apparently worth an interview. Hard hitting indeed.
Choice Lyrics: "CNN know they haven't hired Mother Teresa".
No they haven't Piers. They've hired a right prick.


2. Lady Gaga
Coming in at number 2 and where to start? The woman(?) is more of a product than an artist. Her only genius (or that of her record label) is to appealing to those who feel that they are 'different' or 'freaks' which is basically anyone who's ever lived. We all have those doubts and she has managed to sell millions of records of the back of it. Frequently calling her fans "my little monsters" she parades around as Queen of the freaks. More is said about her clothing than her music ability. She's not David Bowie, she's not Freddie Mercury. She's a gimmick ridden arsebox.
Began with: "Just Dance", 2008.
Biggest Success: Her album, The Fame has sold over 12 million copies worldwide.
Recent Offerings: The "no way did she do that, she is like SO against the system, I love her even more, maybe I can be like that" singer announced her new album "Born This Way" on New Years Day by putting a picture of her naked arse on twitter, classy.
Choice Lyrics: "When you make music or write or create, it's really your job to have mind-blowing, irresponsible, condomless sex with whatever idea it is you're writing about at the time."
Which is why your music has AIDs.


1. N-Dubz (Dappy in particular)
In my mind there was only going to be one winner. N-Dubz are the latest Chav stars, led by the intolerable Dappy, a man who looks like a rat about to sneeze. A caricature of this Chav stereotype, they are seemingly unaware of the artist painting them with massive heads and noses. In all honesty I wouldn't find them so irritating if they didn't take themselves so seriously. This deep hatred of all things started when in January 2010, after a listener texted in calling Dappy "vile" and "a boy in a silly hat", Dappy managed to find the culprits number and started making death threats.
Began with: "You Better Not Waste My Time" got to number 26 in 2006.
Biggest Success: They featured on Tincy Styder's "Number One", their only number one hit.
Recent Offerings: Released "Love.Live.Life" in November 2010 and finished their reality series "Being N-Dubz" with a christmas special.
Choice Lyrics: "Josh slept with Bianca, Little did she know he was wanker, Coz he was a bi-sexual prick, He love slits as well As dicks" – Sex.
Up there with Dylan and Cohen? I think not.