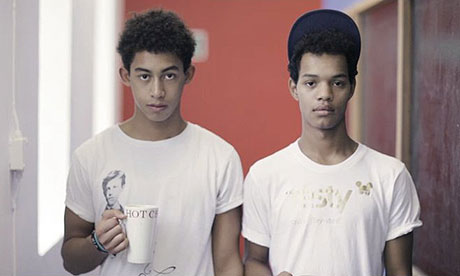 Brighton duo Rizzle Kicks have had a sizzling 2011 so far and look set to bring their self-branded 'indie-hop' sound to the forefront with their debut UK tour.
Harley Alexander-Sule and Jordan Stephens are two teenage lads that make it seem like having fun is the most important thing to them and it definitely comes across in their infectious style.  Don't let that quest to have a laugh fool you though, they have an impressive backlog of EP's and YouTube tracks that are a clear indication of their hard work over the years, leaving you wondering why it has taken everyone so long to notice them.
With one rapper, one singer and tons of unique and intreguing styles, they bring something different to the current UK music scene. Debut single Down with the Trumpets has been a huge success that was nestled in and around the top ten for four weeks and has notched up over 4.5 million YouTube views to date. They seem to be musically gifted as well as lyrically and the chemistry between the two is what makes Rizzle Kicks a deadly duo and one to look out for.
Full of a charming enthusiasm, they seem like a band that are best seen live. Their style of using catchy samples to maximise the pop-hook of the source material, mixed with their own fresh, airy flow results in music with the buoyancy and breeziness of De La Soul, The Pharcyde and Dream Warriors.
Debut album Stereo Typical will be available from 31st October and their tour runs throughout February and March.
Rizzle Kicks UK tour dates are as follows:
February 16 – Cambridge, Junction
February 18 – Sheffield, Plug
February 19 – Norwich, Waterfront
February 22 – Inverness, Ironworks
February 23 – Glasgow, Arches
February 24 – Edinburgh, Liquidroom
February 25 – Birmingham, HMV Library
February 29 – Newcastle, The Other Rooms
March 1 – Leeds, Leeds University
March 2 – Manchester, Academy 2
March 3 – Preston, 53 Degrees
March 8 – Oxford, O2 Academy
March 9 – Bristol, O2 Academy
March 10 – Falmouth, Pavilion
March 11 – Portsmouth, Wedgwood Rooms
March 14 – Brighton, Concorde 2
March 15 – London, O2 Shepherd's Bush Empire
Words by Ashley Clements.