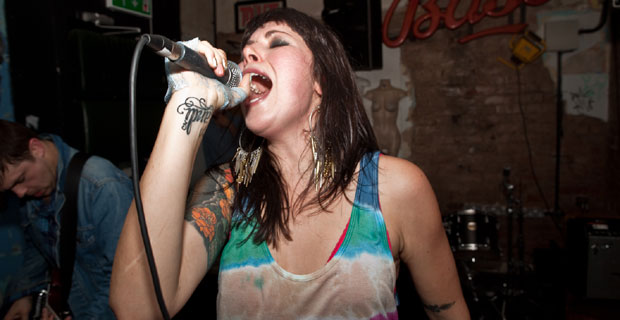 Since releasing their debut Treats in May 2010, the lives of this Brooklyn based duo have mirrored their musical style, fast-paced and vigorously energetic. After signing to M.I.A's N.E.E.T record label Sleigh Bells took on the UK armed with attitude, brash beats, and juxtaposing smooth vocals. Now they are set to return with newly confirmed dates and the aptly titled Riot Rhythm confirmed as the next single.
Derek Miller is the producer, writer, and guitarist of the duo. He had been waiting tables for six years in frustration while cooking up distorted genre blending sounds in his spare time and was finding it exceptionally hard to recruit a female vocalist. A lot of the time those approached thought he was trying to get their number of other reasons. Luckily Alexis Krauss didn't think Miller was merely being a sleazy waiter when her mother gave the biggest tip of the day in suggesting that her daugher provide the much sought after voice.
M.I.A. was spotted at early gigs and took a heavy interest once Spike Jonze reccommended them to her. Miller went into the studio with her a few times before beginning work on Treats, and subsequently produced Meds And Feds which became part of her recent album.
Riot Rhythm was the last track to be completed during the recording of Treats. It took only six hours to get right on the last day of the sessions and was the icing on what had already been a very fruitful cake. The single is to be made available from 14 February and comes with a huge remix from the well suited stylings of Diplo. Below is an unofficial video created by one of their very talented fans.
Words: Simon Butcher Photography: Magnus Blikeng
Tour Dates
21/01 – The Deaf Institute, Manchester, UK
22/01 – Stereo, Glasgow, UK
24/01 – Tavastia Klubi , Helsinki, Finland
26/01 – BLÅ, Oslo, Norway
28/01 – Debaser Slussen, Stockholm, Sweden
29/01 – Loppen, Copenhagen, Denmark
31/01 – Festsaal Kreuzberg, Berlin, Germany
01/02 – Meet Factory, Prague, Czech Republic
02/02 – Szene Wien, Vienna, Austria
04/02 – Covo Club, Bologna, Italy
05/02 – Tunnel, Milan, Italy
08/02 – La Maroquinerie, Paris, France
10/02 – Vera, Groningen, Netherlands
11/02 – Doornroosje, Nijmegen, Netherlands
14/02 – Heaven, London, UK
15/02 – Digital, Brighton, UK
16/02 – Rescue Rooms, Nottingham, UK
18/02 – Whelan's , Dublin, Ireland