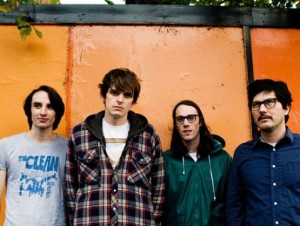 "Wait, wait. That doesn't sound very good at all does it?" Asked Mazes lead singer, Jack Cooper. Not what you expect to hear halfway through a bands opening gambit, but Cooper was referring to his microphone that screeched like a spooked cat each time he attempted to get into his teen America style vocals.
It showed a dedication to the quality of sound that these four lads want to put forward and a quick tweak from the soundman meant they could get underway again.
Unfazed and uninterrupted, Mazes, let the music do the talking with melodic kicks and catchy hooks that had the XOYO crowd baying for more. Unfortunately, they were the first of two bands supporting New York-based trio, Vivian Girls, which meant a reasonably short set. They proved that they were worthy of a much higher place on the bill with guitar riffs and solos that showed a confidence in their musical ability that was refreshing to experience.
With a style and sound that somehow captures that American punk spirit of the early 90s, a Nirvana-like grunge as well as some bubblegum pop that is reminiscent to that of The Monkees, it did not take long for them to coax people from the back of the room to the front of the stage. Their songs were generally quite short but packed full of toe-tapping choruses that had the front of the crowd dancing along by the end of their set.
They played several tracks from debut album, A Thousand Heys, and the pick of a relatively small bunch has to be Summer Hits as well as Wait Anyway. This track saw lead singer, Cooper, get so caught up in the moment that he became one with his Mic to the point where it looked like it would take a team of Shoreditch's finest surgeons to remove it from his mouth. Wait Anyway, also includes a two minute instrumental that is truly epic when seen live, catch them if you can and join the excitement surrounding Mazes.
httpv://www.youtube.com/watch?v=K5G4Z8fzsTE
Words: Ashley Clements