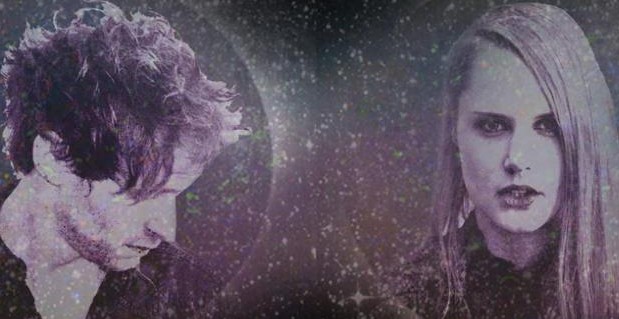 May's Northern Noise Live was another sell out. It consisted of many a sing-a-long, strangers storming the stage and introducing the headliners, and, due to the one weekend of summer hitting Manchester, possibly the hottest room in the world.
"You can't beat that" we hear you cry. Well, we've given it a ruddy good go. On July 28th, The Castle Hotel better brace itself for muscial talent as we have three exciting and mesmerising acts to perform. We have a history of selling out and we would hate for you to miss out so just go to our tickets page and buy your tickets now.
——————————–
Headliners – Coves
We can't express just how pleased we are to have this band headlining. If you take a listen to this two-piece you'll soon see why. They're amazing, simple as that.
Rebekah Wood & John Rigard pack in more ineluctable indie-earworms to their latest EP than many prestigious acts have done in a lifetime.  Coming out via Cross Key Records, 'Cast A Shadow' is full of sassy self-assurance, whether it's Rebekah's husky vocals or John's brazen guitar strumming.
It's a release replete with creativity. 'No Ladder' switches between subtle xylophonic sprinkles and a pulsating synth.  The title-track sees sultry vocals swoon around a rousing riff. 'Run With Me' is a paranoid, atmospheric  track with an incredible chorus, and the pounding drumming in 'Fall Out Of Love'  builds to a dramatic climax for the EP closer.
Live, the duo take this energy to another level with psychedelic visuals and even a megaphone for extra emphasis.  Having recently supported Echo & The Bunnymen earlier in the year, the only way is up. Interest is coming thick and fast with Radio 1 and others playing their songs to the masses. Come down to their first ever gig in Manchester. You won't be disappointed.
words by Simon Butcher
——————————–
Support – We The Dead
It's one of those strange occurrences, after looking through our twitter followers we noticed a band called We The Dead had followed us. They didn't really have much information except a link to their soundcloud which only had one song on it. This was 'Conjured Curses (Billy)' and we instantly loved it.
The four-piece from Manchester produce an atmospheric sound with great guitar riffs flowing in and out. There is a laid back quality in the delivery but with an intensity to the lyrics that gives the song a real edge. After one listen, we wanted more.
And more we got. There are currently 4 songs on the bands soundcloud. 'Portugal' marches into your ears before breaking into a run, "I live my life as a ghost these days" they sing, continuing to show the darker side of their sound. 'The Dead' picks up the tempo even more with driving guitars pushing the music forward. Vocally the song intertwines all of the band which is something we are really looking forward to seeing live. The most recent offering is 'Red and Black'. A full sound encapsulating what this band does well. You pick out the vocals, the guitar, the riffs, the rhythm. Even at the end of the track while the guitars sing, there are voices in the background immersing you in the world they have created.
It's exciting guitar driven music, without the attitude or cockiness seemingly associated with bands from this area. If the other acts on the bill aren't careful. They could steal the show.
words by Daniel Savage
——————————–
Support – David Ward
You may have to travel a fair distance to get yourself down to The Castle Hotel on July 28th but no one has a longer commute than this month's opening act. Hailing from Vancouver, David Ward has traveled far and wide to gift us with his presence at Northern Noise Live and we couldn't be more grateful. However Ward's no stranger to long treks. The multifaceted singer-songwriter has toured relentlessly since the release of his funk and blues laced 2006 debut Never Meant To Know. Over the past few years, Ward's been a staple figure in music joints across his Canadian homeland, has performed shows in Japan and, with his scheduled stint at Northern Noise Live, is soon to invade the UK.
Arrive at The Castle Hotel and you'll be treated to a first hand encounter with an artist who's not afraid to throw any number of musical genres together and experiment with the outcome. The end result has earned him eyebrow-raising comparisons to the likes of Jeff Buckley, James Brown, Tom Waits and Marvin Gaye – a varied handful of musical icon's that are rarely mentioned in the same sentence. However one listen to Ward's eclectic output and the connections instantly appear.
Bursting onto the scene with his loose and fast first record, listen to this collection of material and you'd be wrong to think you have the man pegged. The theatrical soul of track 'The Stones' or relaxing chilled-funk of eponymous ditty 'Never Meant To Know' clearly show that this is a guy who's more that comfortable with a backing band. However, not one to stay in the same place for too long, Ward wasted no time mixing things up for his latest offering.
Released earlier this year as three separate EPs, The Arrival is an intimate concept album which re-imagines the stages of a journey in a variety of stark musical genres. Delve into this poetic and soothing EP collection and you'll be rewarded with a refreshing collection of folk, smooth R&B and sentimental jazz. A journey that's guaranteed to leave you in a better mood and a better place.
The Castle's resident Northern Noise music hall will no doubt be the perfect stage for David Ward's warm and all-encompassing sound. Unmissable.
words by Simon Bland
——————————
buy your tickets here, follow us on twitter, like us on facebook