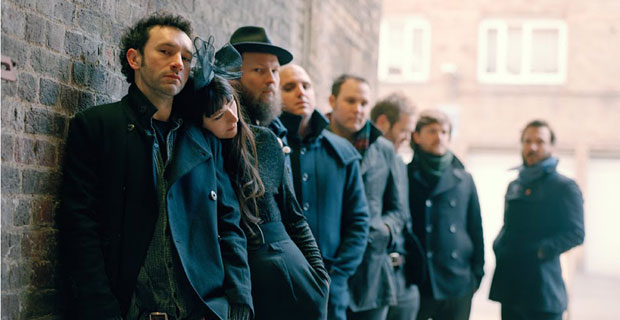 The Bookhouse Boys' moniker lends an air of gang-like authority to this North London outfit, which is fitting when considering that their musical mob consists of nine members, who when melded together craft dramatically dark, orchestral rock.
When placing together the stand-out tracks from 2009's eponymous debut, things read like a hastily scribbled (if not written in blood) death letter. I Can't Help Myself, Shoot You Down, Dead, Tonight – all featured on what was a truly versatile album. Elements of rock'n'roll, blues, and country, were fused together in creating a record you could imagine soundtracking numerous Western movies. From the clichéd scenes where two cowboys would glare intently into each other's eyes while waiting to draw pistols (Luca The Brave), to fast-paced jaunts you could imagine bandits riding away on horseback to (Dead), this was an album of intensity.
Monday saw their return, with Tales To Be Told, providing the next chapter. Once again Cathrine Turner's seductive vocals are contrasted with frontman Paul van Oestren's authoritative, Nick Cave compared, tones. This track, Guns Like Drums, is a hard edged, resilient single, blasting the nine-piece back into action with vigour.
Go and see them if you dare! When they walk into a venue smartly dressed, each with an instrument case in hand, they will look like something from Al Capone's prohibition era, but rest assured their music is nothing to be feared.
Words: Simon Butcher

Other News
Listen to The Bookhouse Boys Eponymous Debut Here
True Faith – Manchester International Festival
April Mixtape