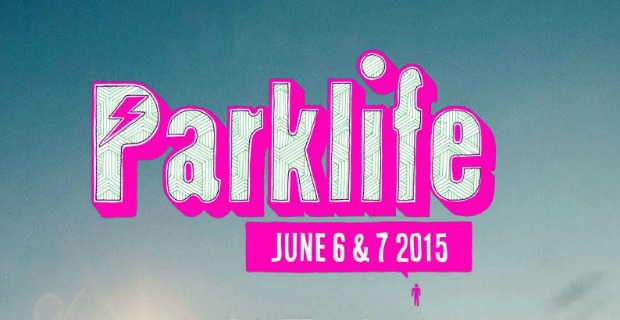 Now entering its fifth year, Parklife has enjoyed a well-deserved rise from plucky upstart to institution in a remarkably short amount of time, and coupled with its sister-act The Warehouse Project has helped re-establish Manchester as a hotbed of cutting edge music for a new generation.
And yet again the lineup delivers, offering up an enviable slice of the hottest acts from every corner of the urban music spectrum, deftly interweaved with a choice array of legends and a few leftfield acts. It's been interesting watching Parklife develop and find its identity over the years, as it reflects the current musical climate of the city – This is the same stuff you'll hear blaring out in the Northern Quarter, Sankey's or any number of house parties every weekend and is a good indicator of the current zeitgeist. And what it's showing right now is a strong blend of underground hip-hop, R&B, Electronica, House, and Bass Music, with hints of Disco, Reggae and Funk thrown into the mix.
With such a wide net cast it's hard to pick out a definitive bunch of artists, as there's enough on offer here for people of different interest to have wildly different experiences. Nevertheless, here's a selection of some of the most exciting acts scheduled to play Parklife 2015…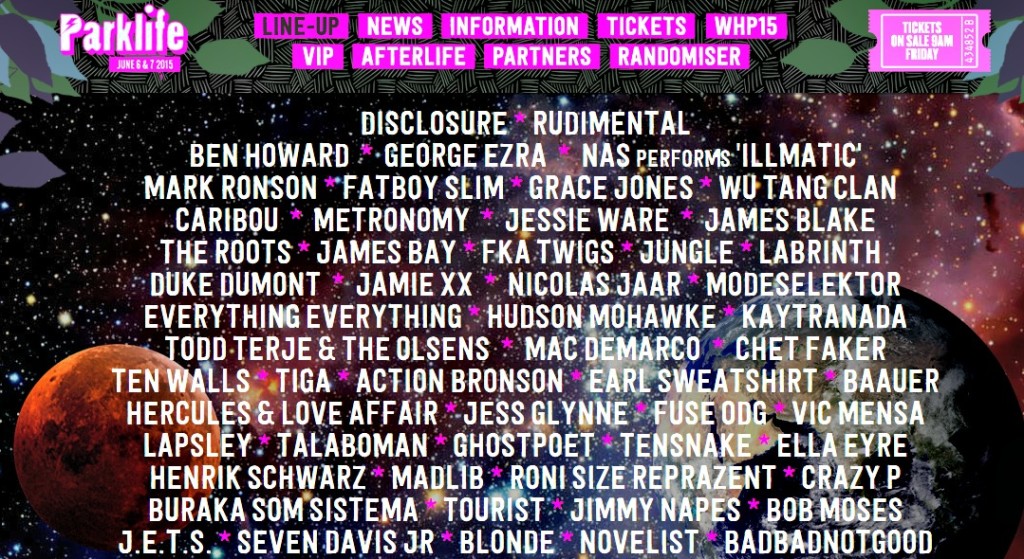 Disclosure
Now entering their third year headlining Parklife, Disclosure are starting to feel like the patron saints of the festival and their presence is always a welcome boost to proceedings. Nearly two years after the release of their blockbuster debut Settle the Lawrence brothers have become a well-oiled touring machine and their impressive live interpretations of their material are a thrill to behold. Don't be surprised to see them try out some new material either if it hasn't already dropped by June!
Madlib
One of the most highly-respected and enigmatic producers in the business, Madlib's reputation is overshadowed only by his immense record collection and seemingly endless body of work both as a DJ, producer and rapper. Making a rare UK appearance at Parklife this year, it's almost impossible to predict what Mad's set could be like; such is the breadth of the man's work- Will we get a rundown of his biggest hits, a mash-up of rare jazz, soul and reggae or an appearance from his rapping alter-ego Quasimoto? Anything could happen, and you owe it to yourself to be there when it does.
Grace Jones
A true icon and a real coup for the festival, Grace Jones brings her unimitable style and powerful stage presence to Heaton Park for what promises to be a truly unforgettable performance. Featuring a unique blend of Funk, Disco and New Wave, Grace's music is at the root of many of today's top artists and, like Chic & Nile Rogers' performance a few years back, is sure to be a welcome throwback that'll give a younger generation the chance to witness an utterly unique diva show the nu-school a thing or two about how to perform on stage.
Earl Sweatshirt
One of the breakout stars from Odd Future Wolf Gang and a vanguard of the new wave of West Coast Hip-Hop, Earl Sweatshirt is widely considered to be one the hottest new rappers of his generation. With an unimitable flow and a penchant for pure rhyming and storytelling that places him above all but the greatest MC's, Earl is your favourite rapper's favourite rapper, and his 2013 album Doris was one of the strongest Hip-Hop debut's in recent times. Whilst you can expect a lyrical masterclass from his performance, don't count out the legion of rowdy OF fans that'll make sure this set carries some gravitas to it.
BADBADNOTGOOD
One of the most inspired bookings of the festival, BADBADNOTGOOD are a jazz trio that have done the seemingly impossible and made jazz cool as fuck again thanks to their inspired interpretations of hip-hop tracks and the sheer virtuosity of their playing, which has landed them a string of collaborations with some of the biggest names in Hip-Hop, including Ghostface Killah, MF DOOM, Earl Sweatshirt, Danny Brown and Frank Ocean to name a few. It's incredible how an injection of youthful exuberance and a few new ideas have managed to make a genre seemingly consigned to the history books seem fresh once again; but once you witness the fierceness and virtuosity of their live show you'll realize that BBNG were destined to be top-tier musicians no matter what genre they turned their hand to.
Jungle
Emerging from seemingly nowhere with an insta-classic album and about 5 songs that have managed to worm their way into countless ads, trailers and video games to the point where they already feel like somewhat of an institution, Jungle were one of the big success stories of British R&B last year. Playing pretty much every festival and event that'll have them, Jungle have spent the past 12 months becoming a truly slick live band and their performance is bound to be something special.
Fatboy Slim
An artist that barely needs an introduction, Norman Cooke aka Fatboy Slim's contributions to British Dance music and culture loom so large he should have a stage named after him, let alone a headlining spot. With a well-earned reputation as one of the greatest DJ's and beatmaker's the UK has ever produced, Cooke has a laundry-list of hits and literally decades of experience performing shows at this level which makes him one of the safest bets of the weekend.
Nas
2014 marked the 20-year anniversary of Nas' debut Illmatic, widely considered to be the single greatest Rap album of all time and still the gold standard to which any Hip-Hop LP is judged against. Nas celebrated the anniversary with a huge documentary, reissue campaign and a world tour in celebration of the album, playing it front to back. With the 20-year anniversary now behind him it's unclear how much longer he'll be playing these Illmatic shows, so this could be the last chance to hear Nas perform his most celebrated work.
Buy tickets to Parklife 2015 here.
Keep up to date on all the latest Northern entertainment news by following us on Twitter, Facebook and Google+.