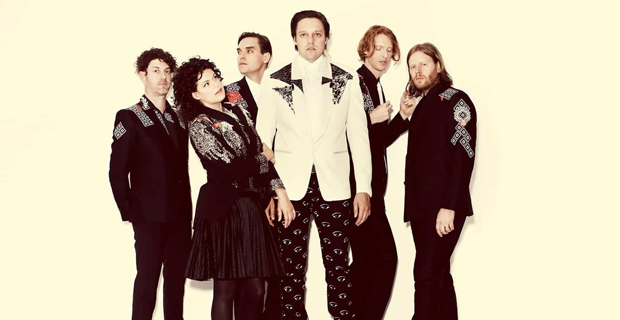 It's a balmy evening in Manchester as hundreds gather in Castlefield Bowl awaiting the arrival of Canadian indie-rockers Arcade Fire. Just over a month has passed since a senseless incident at the Arena shook the heart of the North but rather than pull people apart, the communal atmosphere vibing throughout the venue feels stronger than ever. Maybe it's the humidity, maybe it's the beer, maybe it's both – but Manchester feels more than ready to come together and let off some steam.
With that in mind, it's fitting then that Arcade Fire's disco-infused new one "Everything Now" kicks off tonight's set, sending ripples throughout Castlefield's tightly packed crowd as feet start to move. With an album primed and ready to drop and an extensive back catalogue to dip into, the band have no trouble cherry-picking treats for tonight's performance. Just as soon as they've pocketed their opening number, they're already well into the defiant "Rebellion (Lies)" from their 2004 breakthrough Funeral. Clearly, the party vibe is mutual.
New numbers "Signs of Life" and "Creature Comfort" avoid the pitfall of set-slowing and already feel like welcome additions but it's the band's fan faves that take centre stage tonight. "No Cars Go" fills the air with countless beer cup spilling fist-pumps, anthemic nostalgia track "The Suburbs" gets Castlefield swaying and "Ready To Start" sets pulses racing making an appearance mid-set.
Passing trains ride slow on the track above the bowl trying to soak up a taste of the action while Win Butler, wife Régine Chassagne and the rest of the troupe light up the stage. They settle for a sea of waving hands from the crowd while the hypnotic "Reflektor" and a rendition of "Afterlife" tinged with New Order's "Temptation" (for all those who couldn't make the band's MIF show across the road) close out the band's main set.
With hardly time for a toilet break the six-piece are back for more Reflektor reflection in "We Exist" followed by their joyfully optimistic Funeral hit "Wake Up", leaving fans wailing at the sky. Stage lights continue to linger though and as Win Butler reemerges for a delicate airing of "Neon Bible", hints of Joy Division's bittersweet "Love Will Tear Us Apart" fill the air towards its climax. Eventually, Arcade Fire disappear into the wings but Ian Curtis's lyrics continue to float above the bowl and that communal vibe shows no sign of going anywhere.
Words by Simon Bland (@SiTweetsToo).
Keep up to date on all the latest Northern entertainment news by following us on Twitter, Facebook and Google+.