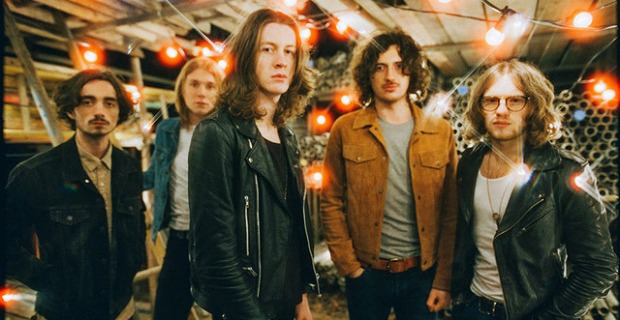 Blossoms. Those 5 Stockport lads with the big hair and even bigger riffs. You've definitely heard of them. And with their debut album going straight to number one, it really isn't hard to see why.
All merely 20-somethings, Tom Ogden, Josh Dewhurst, Charlie Salt, Joe Donovan and Myles Kellock – came from humble beginnings. From the scrapyard practice space where I interviewed them over 2 years ago, to supporting the legendary Stone Roses to now headlining their own tours.
Since their conception in 2013, they have tirelessly toured – both at home and abroad – the toilet circuit to the Pyramid Stage at Glastonbury – these lads have worked hard and gained a unsurprisingly dedicated following. Last Friday night (30th Sept) saw the band return to home turf with a sold-out gig at Manchester Academy and we were lucky enough to be in the crowd.
With support from locals Cabbage and young 'un Declan McKenna – it was packed out gig and rowdy… but in all the right ways. Chants of 'Manchester' filled the Academy and as the lads took to the stage, they delved into the opening bars of one of their hit tracks "At Most A Kiss" which sent the crowd wild. The hour or so long set was the band's album, with a couple of cheeky B-sides thrown in. The anthemic "Blow" saw the crowd takeover – all singing the chorus back to frontman Tom Ogden. Other tracks – "Getaway", "Honey Sweet" and "Blown Rose" had fans throwing themselves around, many on eachother's shoulders echoing every word.
At one point, a mosh pit was attempted during B-side "Polkadot Bones" – an odd choice of track to do this to – which led Ogden to jokingly comment "That was never gonna drop". The band themselves seemed to be buzzing. Odgen in particular seemingly embracing his frontman status with confidence, strutting across the stage and interacting with the crowd. You'd think these lads had been around for much longer than their 3 years. After attending a number of their previous 'home' gigs, it's so clear to see how Blossoms have come into their own. They love what they do and they do it bloody well. Whether it's banging keyboard-filled numbers like "Across the Moor" or bringing it right down to acoustic lovely little tracks like "My Favourite Room", Blossoms know their craft.
Firm favourite "Charlamagne" was of course saved for the end. With no introduction needed, the unmistakable opening keyboard riff sent the crowd into a blissful frenzy jumping about all over the place.
It was sweaty, it was rowdy but it was fun. It was a gig you came out of feeling knackered but euphoric. Blossoms have a knack of giving you that buzz – and as they return to Manchester Albert Hall in December – We'll be damn sure to get our next fix. After a ridiculously successful year, who knows what's in store for these down to earth Stockport sweethearts in 2017. Watch this space guys.
Words by Catherine Allan (@CattFace).
Be sure to 'like' us on Facebook and follow us on Twitter to keep up to date on all the latest Northern entertainment news!