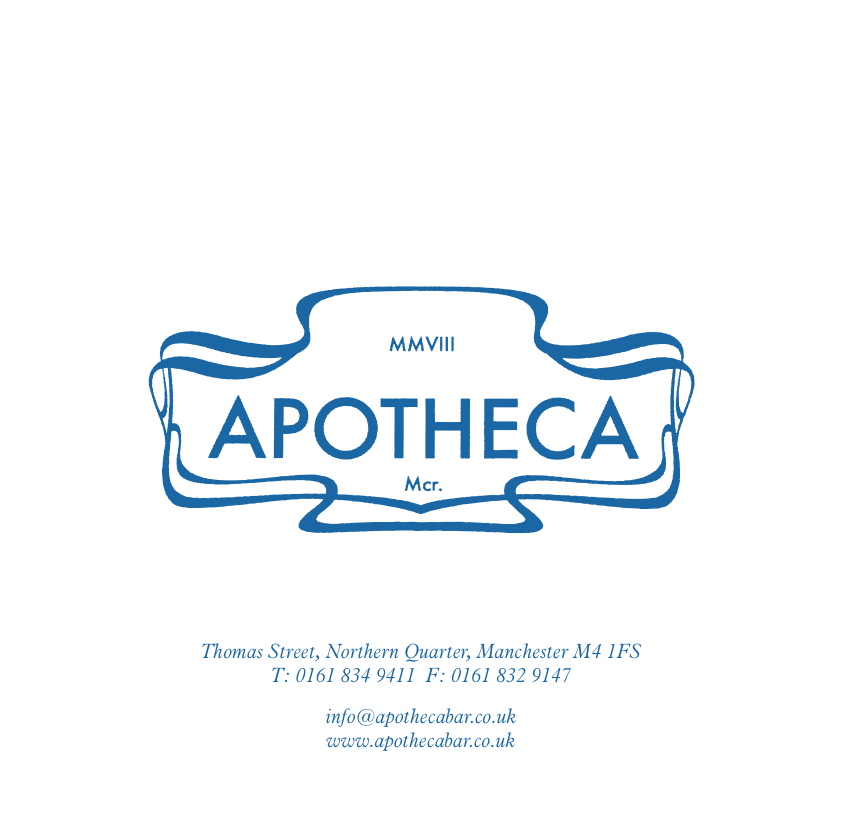 Manchester is renowned for its varied nightlife and unique watering holes. Here at Northern Noise, it's our job to showcase not only the best in northern musical entertainment but also the best in Northern culture.  We paid a visit to Apotheca, the award winning cocktail bar located in the heart of The Northern Quarter, to chat with cocktail mastermind and winner of the 2010 Asahi Rising Star Cocktail Competition Charlene Holt. If you're unfamiliar with Apotheca, then waste no time in running away from this computer and getting familiar.  Its extensive cocktail menu mixes tried classics with bizarrely tasty Apotheca originals straight from the minds of its enormously talented staff.  With many food and drink offers on throughout the week and one of the only bars around that offers its own cocktail school for drink-spinning wannabes, Apotheca is a must for any Manchester fan.
So how did you start out in the cocktail making business?
Well I started at the Pitcher and Piano a few years ago and the owners of this place (Apotheca) was the general manager at the time, and they trained me up.  And then I worked at a couple of other bars between leaving there and coming here and you just learn things at different bars. Obviously everybody's got their own cocktail lists, people have their own style of doing things and people learn new techniques or try out different ways of making stuff. And then I came here, and from the word go we just always tried to have our own cocktail menu that's unique to the bar and then as we've grown and gotten to know what people like and what sells and what doesn't and what people are excited to try like in terms of having mental chilli and Wasabi cocktails (laughs) and things with hot sauce…. yeah it's been a good journey really,
Is it something you always been interested in?
Yeah, well I didn't think I was going to be, I was like "pff cocktails," watching somebody faffing about for ages…like, just give me a drink! The idea of having to wait while somebody was messing about flaring and throwing stuff and catching it like Tom Cruise, was not really interesting.  But actually flaring and making cocktails are two completely different things which is something I've learnt as I've gone along, and with cocktails it's about balancing the different flavours that are in there and getting a really good drink, it's kind of a skillful thing to do in the same way that chefs prepare food and stuff. It's been quite exciting really just to learn that and as I started to learn more and more about it I just found it more interesting and I'd talk to the bartenders and then different drink companies would have training sessions and teach you about their product and you'll have a play around and see how it goes in drinks.  And it's good, there's quite a good unity in the Manchester bar scene…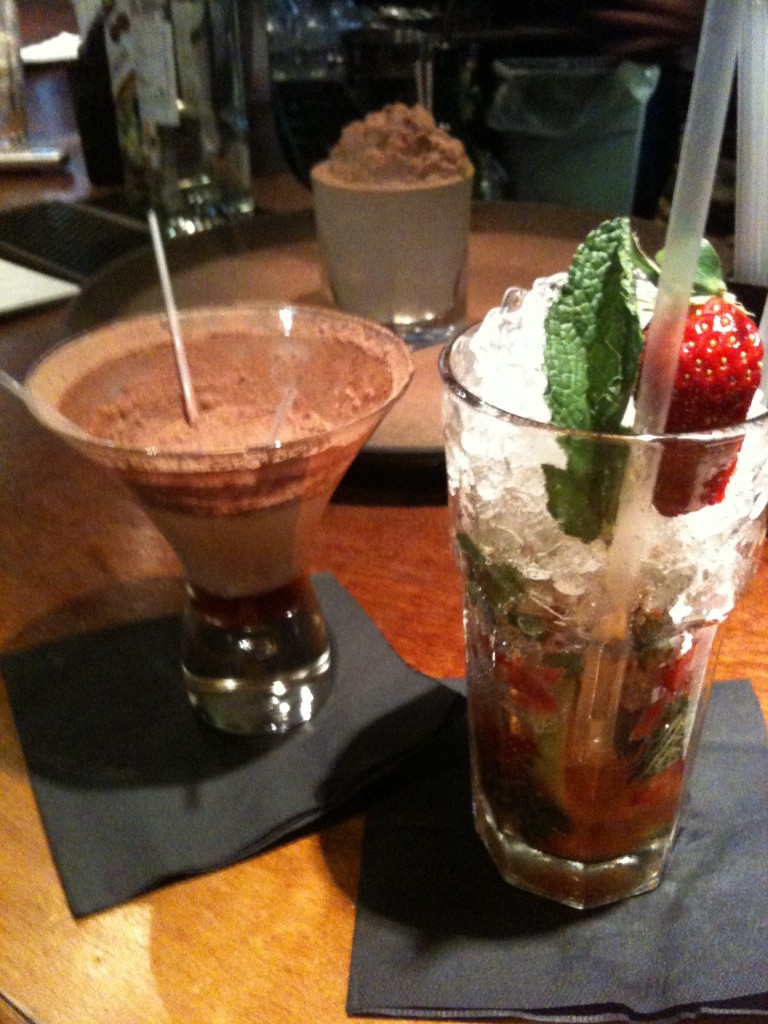 How long has Apotheca been in the Northern Quarter?
We've been open just over two years now; we opened in November 2009 so this is our third Christmas and our second year open.  It's good, it's nice, it's always evolving and growing, we started with a cocktail menu that was a little double page spread and then the next menu got a little bit bigger, then this menu is the third one now and we're on 53 cocktails!
There are quite a few cocktail bars in Manchester's Northern quarter right?
Yeah exactly, especially around here there's a lot of good cocktail making and quite a lot of people doing their own thing and being like 'oh we've got this tasting on this date, you guys want to come?' or 'we're going to have this cocktail competition'… it's good, everybody's very supportive of each other when it comes to cocktail competitions as well as bouncing ideas of each other for new menus
What's your role here at Apotheca?
Well I'm the bar manager here, it's really good. We've had a few in house cocktail competitions with the staff because the ideas the staff have…it's just brilliant to be able to have everybody's different personalities and different ideas come together to create the menu like what we have now. So obviously the Irn-Bru Rob Roy for example (an Apotheca original), a member of staff brought that suggestion down from Edinburgh and at first we were like 'no one wants this classic whisky cocktail with Irn-Bru in it' but actually everyone does and everyone loves it. A lot of the cocktails on the menu are Apotheca originals and they've not just been made by myself or the managers here, the staff are literally like 'oh have you got this' or 'can we try this' or 'I've made this cocktail, want to try it and see what you think?'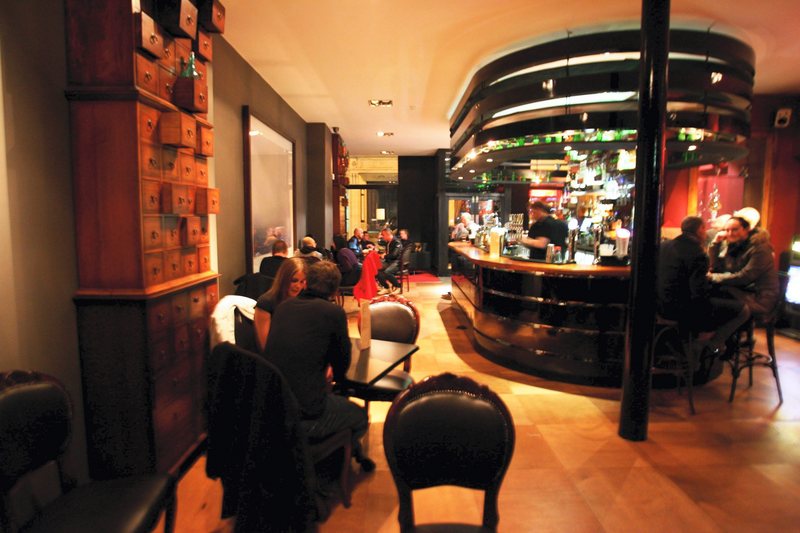 Are you and the rest of the bar staff always coming up with new cocktails?
Well yeah, because there's always on-going cocktail competitions and there's always new products that are launched on to the market so between me and the other guys that work here, the ones who are really passionate about cocktails sort of play around with new things, or enter competitions so there's always new ideas coming out, there's always new drinks being made.  So whenever we have a menu reprint there's always a big pool of things to pick from, and you've always got the classic cocktails anyway. So you've got all the traditional ones that everybody knows that take some real skill to learn how to make perfectly, along with some other ones that people know like Sours and Caprioskas and Collins mixed in together with Apotheca originals really, like 'Tits McGee' and 'Hello Sailor'…
So is it true you're going to Japan? How did that come about?
That's from the Asahi Rising Star Cocktail competition. So we had the final in October down in London where I made the Enter The Dragon drink (Charlene's own recipe involving gin, lychee liqueur, chilli, wasabi and err..fire), set it all on fire and everything. There was me and three other finalists from up and down the country, we had done regional heats and the winner from each region had gone through to this final, so you had the four regions competing against each other to win the 2010 Asahi Rising Star Cocktail competition, the prize for which is a trip to Japan.  So yeah, I won that and I'm going to Japan next month for a few days, it's going to be good, and it's great because they'll take me over there, take me around the brewery, show us the culture and it's all expenses paid so I'm pretty happy with that! It's brilliant.
Are there a lot of cocktail competitions available to budding cocktail makers?
Yeah, a lot of the drinks companies will have annual competitions, so like Appleton will do an annual cocktail competition, Finlandia do, Bacardi do, so you just end up with a lot of drinks companies having these annual competitions, like the Asahi Rising Star one. But you'll also get new products that'll come on the market, like Chairman's Reserve which is a type of rum, they've just launched their spiced version, so I'm pretty sure that in the not so distant future they'll have a cocktail competition to get ideas on how to use that product and the flexibility of it. They're a rum company based in St Lucia, so their Chairman's Reserve cocktail competition that they normally have is at Rumfest every year, the winner from that goes out to St Lucia for a few days.  So it's definitely well worth doing, you get to visit these amazing places and take part in these really exciting cocktail competitions, some of which will be UK based but some of them will be abroad. Like 42 Below which is a brand of vodka, they have their Vodka World Cup every year, where they whittle down contenders and you end up with a team, so the UK team would be three bartenders from across the UK and they'll go up against Japan, Germany, America, France and they'd literally all go out to New Zealand for a week and just have this mental final cocktail competition where everyone's against each other, a little bit like football but with alcohol so it's obviously better.
For more information on Apotheca's full menu click here.