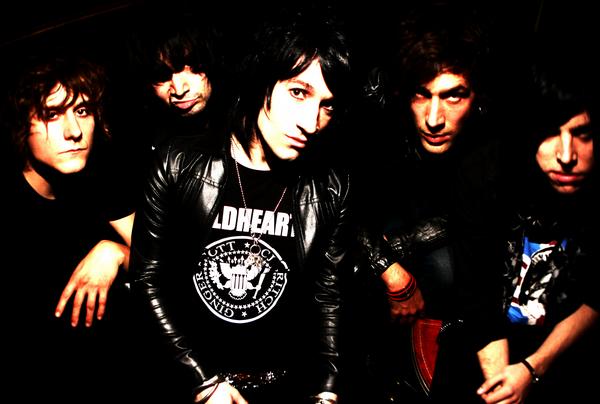 We hate to be the bearer of bad news but this one just couldn't be left to slip under our radar. Five-piece powerhouse The Glitterati, one of the North's hardest working bands recently announced that 2011 will mark the end of their time together after a fantastic eight year run of album releases, chart hits and worldwide headlining tours.
Energetic frontman Paul Gautrey informed fans via Facebook earlier this week that the band are to go their separate ways after many years of playing and recording together. "2010 started so well with the release of a second album and some great responses in the music press, but for reasons mostly beyond our control we weren't ever able to get the show on the road properly and promote the album on tour like we wanted and needed to. We have continuously hoped that this situation would change for the better, but unfortunately the same issues kept preventing us from doing what any band needs to do".
Talking exclusively to Northern Noise, Gautrey discussed the real reasons behind the bands decision to call it quits. "We just felt the time was right. We had a really up and down year last year, our second album came out and we had put everything we had into making and recording that album. We funded it all ourselves, so we were really excited when we found ourselves a new label. Things started well but we had some real problems with management and our booking agent right before the release of the album and in all honesty, it really messed up the whole promotion of the record," explains Gautrey.
"We weren't able to tour to promote the album as we needed to do and it all became a bit of a mess. It was all just so disappointing after working so hard to get back out there with a great album and in the end I think we realised we were fighting a losing battle" added the exasperated frontman.
After almost a decade of producing some vigorously melodic songs, we feel it's only fair to take a look back at the history of this quality rock and roll band. Hailing from Leeds, Gautrey explains to Northern Noise that The Glitterati were heavily influenced by music legends like; "Guns n' Roses, The Rolling Stones and The New York Dolls".
In 2005 the band released their self-titled debut through Atlantic Records, a genuinely classic rock album that ranked well in the UK music charts. 'The Glitterati' was produced in Los Angeles alongside one of the industries most recognised names, Mike Clink (producer on Guns n' Roses Appetite for Destruction and Use Your Illusion 1 and 2.
Both singles from their first record You Got Nothing on Me and Heartbreaker reached the UK Top 50, with tracks like Do You Love Yourself and Back In Power featured in films, TV shows and computer games. Their success in 2005 gave the band great media exposure and led to the Northern lads building a strong and loyal fan base on both sides of the Atlantic. During this exciting time The Glitterati were constantly on tour promoting their energetic and raw new material to live audiences across the globe. They shared the stage with established music icons such as indie phenomenon's The Killers (on two separate occasions), Kings of Leon, Jet and also with rock legends such as The Wildhearts and David Lee Roth. Oh, and last but not least, everybody's favourite Canadian: Avril Lavigne…
Despite playing alongside a very mixed bag of artists over the last eight years, The Glitterati never changed or faltered. They stuck to their guns and gave audiences the full Glit' experience, whether they were playing to pretentious indie kids or innocent and adoring Avril fans. Describing their sound to Northern Noise, Gautrey said; "I'd always say we were a rock and roll band, but people then assumed we sound like Elvis. We play loud, fast, energetic and melodic songs with attitude". The Glitterati found themselves electrifying arenas such as Wembley and Birmingham's NEC and stimulating mass crowds across Britain's major festivals on numerous occasions. After two years of continuously touring with other bands and completing their own headlining gigs on either side of the pond, The Glitterati entered the studio to begin work on their follow up album.
After what felt like a lifetime of anticipation, the band's second album was finally released in the UK in 2010. Are You One of Us? was produced alongside Matt Hyde (who had previously worked with Gallows, Trivium and Slipknot) and released through 'DR2 Records/Global' a subdivision of Demolition Records.
After a few years of touring, writing and with the addition of two new band members, the lads had plenty of new life experiences to fuel their performances and song subjects. "The first album is a lot more wide eyed, naïve and optimistic as that was such a fun and new time in our lives. Are You One of Us? has a lot more pissed off subjects and the music is a lot angrier" describes Gautrey. "I think that the album reflects the last few years and the struggles we had making the record."
The band released two singles from their latest and ultimately final album. Fight Fight Fight was the first single to greet fans followed by Overnight Superstar, which unfortunately turned out to be The Glitterati's final release. From a fans perspective, the lyrics in the latter came across as an indirect 'screw you' to the music industry from the band. We quizzed Gautrey on just exactly what the song was about: "Overnight Superstar was written about some of the people involved with our first record; the label, the disposable nature of the music industry and the leeches that were sucking money out of us on every corner…a lot of the same stuff could apply to the second album too" he laughs "but that's the nature of the business I guess".
Although the news of one of Leeds's finest rock acts splitting after such a lengthy career will disappoint some, The Glitterati guys are staying positive. Members of the band intend to work on new projects over the coming months and according to Gautrey already have some exciting new things on the go.  "I'm working on something new, although I'm not entirely sure what it is yet," admits Gautrey, giving Northern Noise an exclusive sneak peek into his plans, "I know I don't want it to sound like The Glitterati as I think we did that whole thing the best we could. However it's sounding great and things are looking really good, so I'm really happy. I know all the other guys will be doing new things too, I think a couple may have already joined existing bands so you will see us all around before too long" he adds.
In conclusion, here are some parting words from the band…"Thanks to everyone we have worked with over years and to everyone we have met along the way. It really was the best time and meant the world to us… The band was the best time of our lives. We had eight years together and lived out most of our dreams together, so we'll always be grateful for that. We've been places, met and worked with people we could only have dreamed of, and meeting all of you has been the best part of it. Your support for us over the years really has been amazing and we thank you all so much".
Information on the now ex-Glitterati member's new projects will be posted on the bands Myspace page – keep checking in for developments.
Words by Damon Ashton