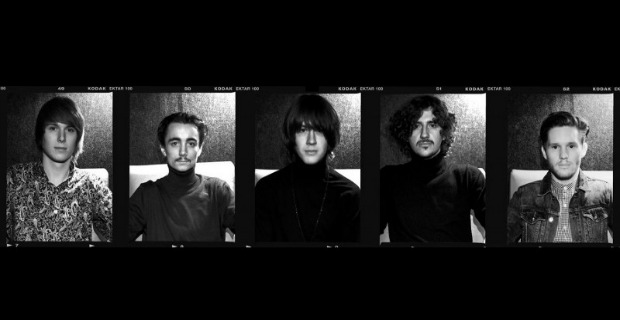 After my naïve and (if I'm honest) innocently lazy review of their EP last month, I resolved that I needed to see and hear these Blossom boys – up close and personal. This lead me to an industrial estate in Stockport. I didn't know where I was going. My taxi driver was just as clueless. But as we swung around the corner – the long haired, long-legged lead singer Tom Ogden came into view in the doorway of the warehouse, and I knew I must be in the right place.
The rest of the lads soon appeared from all directions. Looking quite nervous and offering me cups of tea. The warehouse turned out to be Charlie's (bass and backing vocals) grandad's business. A scaffolding firm complete with an over-heated office where we settled down to chat. But not before I got my own private show. Having not had the chance to see the band play live before – they took it upon themselves to 'play me sumet'. Tucked away in the warehouse, was a small.. no, cosy.. practice room. Dark. Lit by fairy lights, with a settee in the corner and posters and flyers covering the walls. This was where they jammed.. sometimes three or four times a week.
I was treated to 3 tracks (including the mesmerising 'Goodbye') And a couple of which they had never played to anyone before. Lucky me, ey? But apart from the incredible loudness (I was sat a metre away from Joe Donovan's drumkit to be fair) of their set, what struck me was how absolutely note perfect they were. Everything was tight. From the vocals, and harmonies, to the guitar riffs. It was spot on. And it felt special.
But anyway. We soon got down to business. Starting with a pretty obvious question for these self-confessed interview virgins…
So, how did you guys meet?
Tom: Me and Joe have been friends through secondary school.
Joe: And I was in a band with Charlie
Tom: And Joe used to come and watch my band and jump around..but that was never anything serious.. just messing about with my old friends really. And then Joe ended up in a band with Charlie.  And Charlie's from the same area as me..so. Myles joined a bit later.
What about the name Blossoms? Where did that come from?
Joe: I was on the bus with you (Tom) to Manchester and we saw this pub called 'The Blossoms' and I was like "That'd be such a good name for a band" and then like two weeks later I was doing the same journey with Charlie and Charlie said exactly the same thing.
Tom: So that's how we started really. We became a band because we wanted to jam together and I guess we were all into the same music. And our other bands weren't satisfying sorta thing..
And your sound? Had you ever done anything like this?
All: Completely different.
Tom: Different to anything we've done before in other bands.  I mean, it#s still guitar-based, but this is a bit more mature?
Charlie: Yeah, my previous bands were a bit more bluesy.
Tom: And mine was more Brit Pop really.
This sound is quite unique. Is that something that came through naturally when you got together?
Tom: Yeah I think so. I mean, I wrote songs in my old band but they didn't sound like that! I would say my songwriting has got better.
And do you all write?
Joe: Tom will write like a tune on guitar or some lyrics..and he'll bring it to the band.
Tom: Or sometimes we'll have a riff and we go from there. Taking it from a basic shell and then add all our own little bits. See what we come up with,
Joe: But that's the best way to do it I think.. instead of one person going away and writing it alone. But because he brings it back to us all as a band and we share it and add our own things. That's how we get our sound
Charlie: Yeah. And like none of it's forced. It's all completely organic.
Where do you get your inspiration from?
Joe: It's all mountains and gazing at sunsets.
Tom: Last summer, I ended my first proper relationship. And from that.. the band then pushed from it. You've probably been there. When you end your first proper relationship, you feel like its the shittest thing in the world. But it's not, know what I mean? A lot of our songs, they're quite lustful.
Myles: "painting the visions of decaying romance"
Tom: That's what someone wrote! Myles hasn't just made that up!
Charlie: A lot of people say that after the gigs, our songs are sleazy. They have that 'sleazy vibe'.
Tom: Like a red light kinda vibe
Charlie: Someone said, that we could soundtrack a Tarantino film.
Myles: So we just need to get in contact with him don't we?
The music press like to make comparisons with the psychedelic 60s genre. How do you feel about that?
Charlie: I don't think we wanna be fully branded with the psychedelic stamp.
Joe: It's a cool thing to say though. But when you strip our songs back..
Tom: I don't think we are. There's maybe one tune that's quite like that..
Joe: I think people get the psychedelic vibe because we all wear black turtle necks so we're all a bit more mysterious like. I think that's why people brand us with that.
Tom: We said at the beginning, didn't we. We said 'psych-pop'.
Joe: And what's our genre?
Charlie: Oh yeah. We've got this kinda sub-genre we made up ourselves it's 'ethereal nostalgic sonanance.' And journalists seem to mention it whenenver they write about us but I just put it on our Twitter for a laugh
Myles: I don't even know what it means!
Tom: When  people say its 'psych-revival'.. that's just bollocks.
Charlie: Yeah that's just people being lazy to be honest.
So do you want to distance yourself from that psychedelic genre?
Charlie: I suppose it's better than being labelled like 'the next Oasis' or whatever
Tom: Not that we've got anything against Oasis. They're one of my favourite bands. We just don't wanna be them. And I don't think we sound like we're from Manchester. A lot of bands come out of Manchester and tend to sound like that and we don't.
Charlie: We're just good old fashioned songwriting with a twist.
Is your image a conscious thing?
Joe: Yeah. We didn't just turn up one day and be like "OH WE'VE ALL GOT THE SAME THING ON?!"
Tom: I just think it looks better. It's visually pleasing. You're gonna remember us.. like 'Who were them lads in the turtle necks?" People probably think we look like dicks.
Joe: But we all look like we're together.
Tom: And we are like that. We spend all our time with each other. We are like a gang. So it looks good too.. and maybe that's where some people get the psychedelic thing from?
Charlie: We were gonna wear them tonight for you but we decided against it.
Tom: It always gets mentioned. Someone once drew comparisons with…who was it?
Joe: Derek Trotter.
Tom: Oh yeah, cause we were wearing them necklaces.
Joe: The first gig we ever played. Before Myles joined the band. We all wore turtle necks and black skinny jeans.
Tom: And I wore white skinny jeans.
Joe:  And Tom wore white skinny jeans.
Tom: I won't wear 'em again.. To be honest, I don't know how long we'll go on wearing skinny jeans for. It won't be forever
Charlie: There's other ideas
Tom: But we'll still keep things in like unison. Its like going back to basics. The Beatles used to do it.
So you feel comfortable together on stage?
Tom: Yeah definitely. And even from the beginning people were saying we had sumet. And now its like 10 months down the line.
Joe: We first practiced in here didn't we?
Josh: I think we all had a great repore straight away, like I hadn't really met Charlie before and straight away you came and danced with me We bonded…
Charlie: Yeah we bonded over PG Tips
Tom: Josh loves tea. That's pretty much his rider.
Charlie: And then Myles joined a bit later..
Tom: Yeah it was just us four at first but it wasn't that serious. And we knew we were missing something. We knew we wanted someone on keys. And we met Myles through mutual friends.
Myles: I was at a party and I was pretty pissed up and I was all like 'I can play keys me yeah, let me be in your band mate. Nice one.' Woke up the next day and they were like 'Do you wanna jam?' I was like sure…couldn't play keys. I had a broken wrist. I was like 'what am I doing 'ere?' Still had a cast on at one of my first gigs with these.
So what are you plans for this year?
Tom: I'm always writing.
Charlie: The flow is constant.
Tom: Yeah, I was at yours before here and we were working on sumet then.  We've already got over an album's worth, probably nearly two album's worth of material. And like we played you some new music today.
Tom: But yeah, even at gigs.we play a similar set and every now and then we'll just drop in a new one but we like to keep the whole mysterious thing up, y'see.
Myles: Until now, when we've just explained everything to you..
Tom: Nahh…we've not give too much excitement away have we.
And the new single?
Tom: Hopefully it will be out in September and we'd like to do some hard copies really, singles, vinyls and we've got a few gigs to back that up, it's just going really well. We've had some good reviews there hasn't really been anything bad yet, I'm waiting for it..
Charlie: I mean it's normal for bands to get mixed reviews. Some people will like you, some will think you're shit but after our gigs, it just seems to be really positive.
Tom: But I think we all believe in it, the band.
Myles: Yeah we all see it as a reality.
Tom: When we got together properly, like with Myles, it wasn't like 'let's see what happens'..
Charlie: It was 'Let's make it happen'
Joe: We've all sorta put our careers on hold to focus on the band.
This time next year, where would you like to be?
Tom: Doing all the festivals.. and like by then hopefully we'll have had a few singles out.
Charlie: Yeah we'll probably aim for our own UK tour just a small toilet tour, 'sumet like that.
Charlie: We'll probably go back to Europe..
And what about across the pond?
Tom: Yes definitely.
Charlie: I think we'd go down pretty well over there.
Tom: It's just something all bands want though isn't it..
Charlie: You dunno what's on the horizon..
Tom: It's exciting. I'm excited. I just want summer over now so I know what's gonna happen next..
Joe: And it's about time we got sumet new out so we're gonna give this single a massive push
Josh: Quench everyone's thirst, y'know?
Tom: Like a good brew.
Single 'Blow' is available on Spotify and iTunes now. Blossoms play Gorilla Manchester on March 28th. Buy tickets here.

Words by Catherine Allan (@CattFace).
Be sure to 'like' us on Facebook and follow us on Twitter to keep up to date on all the latest Northern entertainment news!