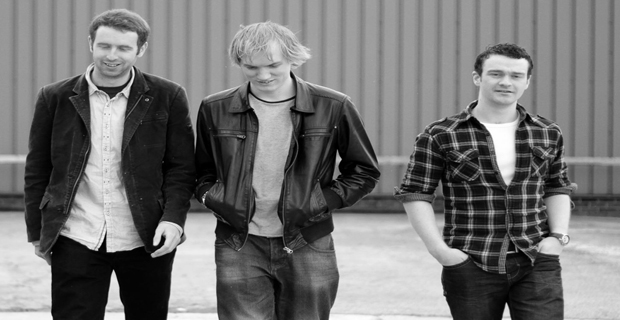 You know City Reign, right? These Manchester lads are no stranger to Northern Noise. They've played for us before and this Saturday night they'll be celebrating their single launch with us at The Castle Hotel.  They'll be joined by I See Angels and Bristol band Idles, you know those guys too, right? The former just compiled us a Personal Playlist while the latter recently stopped by for a chat. Speaking of quick chinwags, we also nabbed a few moments of City Reign's time. Check out the Q+A below!
Buy tickets to Northern Noise Live: City Reign Single Launch w/ Idles & I See Angels here.
Buy tickets to Northern Noise Live: Nine Black Alps in Blackpool here.
So how did you guys become a band?
"Mike & I met when we'd both just moved to Manchester way back in 2006. We were both off to see Ryan Adams at the Academy, ended up chatting & swapping influences & decided to start writing songs together. We were in various bands for a couple of years writing some pretty awful songs. We decided on a fresh start in 2009 & City Reign was born, with some much better songs!"
Who influences you the most?
"Lots of people influence us in different ways. We both started writing as kids because of Noel Gallagher & Oasis. Our tastes have developed since then and bands like Doves & The National are an inspiration because of their sense of independence."
What are some of your favourite Manchester venues?
"Big venues, my favourite is the Apollo, its got a wonderful atmosphere and the sound is great. In terms of the smaller venues The Deaf Institute is a real favourite. We were lucky enough to play it for The Clash magazine Manchester launch party which was great."
What do you think it is about Manchester that attracts so many up and coming bands?
"Ever since arriving here you just sense that it's a city that has music running through its veins. You meet so many people who just love music that it's hard not to be influenced by it."
What's been your favourite live music experience as a band so far?
"I think the best gig we ever did was our headline show at the Bull & Gate in Kentush Town last November on our Numbers For Street Names tour. The venue was full of friends & family, and we shared a bill with Wiretree who are an American band who have become good friends since that gig. We're hoping this single launch at The Castle will be something similar on Saturday."
You're celebrating your single launch with us. How excited are you to get this track out officially?
"It's great, we've been promoting it for a while now, there's a lot of preparation gone into it so its exciting that its finally all happening."
Speaking of Ahead of Ideas – talk us through how this single came to be…
"To be honest it wasn't going to be the first single. When we were recording the album Louise Cowley from Bloc & Blur was taking photos and video footage. She put together this documentary video that was gonna be used to promote the album, with Ahead Of Ideas as the track. It was so good we decided to use it as single and have that as the official music video."
Can we expect a new album soon?
"Jumped the gun on the last question but yes, there is a full length album due out in February, which we're very excited about."
A band's first gig can be nerve wrecking. Was your first gig a failure of a triumph or somewhere in between?
"A bit of both. In our second gig my guitar cut out. I changed lead, then guitar, then even changed amp and no joy, until I found out I had 2 dud leads in a row. It was a bit of a spanner in the works but we coped, got through and learned a valuable lesson: take plenty of working leads…"

How far do you think City Reign has come since your first gig?
"We've come a long way, grown in confidence and just become a better band. We love getting out and playing, we always find that as the tour goes on you get better and better. It's just a matter of sticking at it, you learn so much that you can only learn from going out and playing, no matter how big or small the gig is."
Have you had any real on-stage disasters that you'd rather forget?
"The worst incident was that first gig which was a bit of a nightmare. Wiretree bought us all whiskey shots in the middle of that set in London, I think Duncan had to work hard not to see it again during the set, that could have been a bit of a disaster. Other than that, nothing too bad…"
What's the best thing about being in a band?
"Getting to play your own songs, hang out with your mates and meet new people. We've made a lot of friends we would never have met otherwise."
You've recently been on a tour of Scotland on the Ahead of Ideas tour. How was that experience?
"It was great, we had a laugh. Scotland is a great place to play music, like Manchester the people just love music and show their appreciation."
What's a typical day on tour like for City Reign?
"A collective hang over, zombie walking in search of high calorie foods, and great gigs."
You recently received some Russian love via a Russian review. How did that happen? Are you guys massive in Russia now?!
"I'm not sure, we've not got anyone high up in the Russian Governement trying to sue us yet but give it time…"
What do you want City Reign to achieve in 2013?
"We'd love the album to get some attention, we've worked really hard to get this far and we're really proud of the album we've created so let's get it out there. Ideally it would lead to a decent support slot, some festival appearances in the summer but we'll have to wait and see…"
(Question for all) It's nearly CHRISTMAS but what's the worst present you've ever received?
"Ministry of Sound Club Classics compilation."
Words and interview by Simon Bland. (@SiTweetsToo)
Want tickets to Northern Noise Live: City Reign Single Launch w/ Idles & I See Angels, course you do! Head here.
Buy tickets to Northern Noise Live: Nine Black Alps in Blackpool, here!
Be sure to 'Like' us on Facebook and follow us on Twitter to keep up to date on all the latest Northern music news!