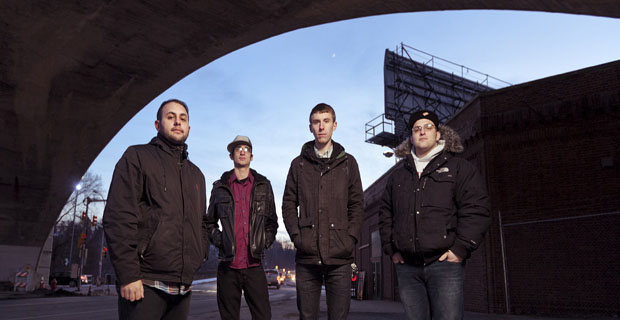 New Jersey's premier pop punk band Man Overboard return to the UK next week to kick off what's sure to be one of their busiest years ever. Having gifted their fun loving fanbase with a brand new self-titled album late last year, this dedicated four-piece clearly don't shy away from a little hard work. Together with their buddies in The Story So Far and Save Your Breath, they'll be playing a show every night while they're on our turf. We gave the band's drummer Justin Collier a call to discuss their upcoming tour, the looming 2012 apocalypse and why pop-punk is worth defending…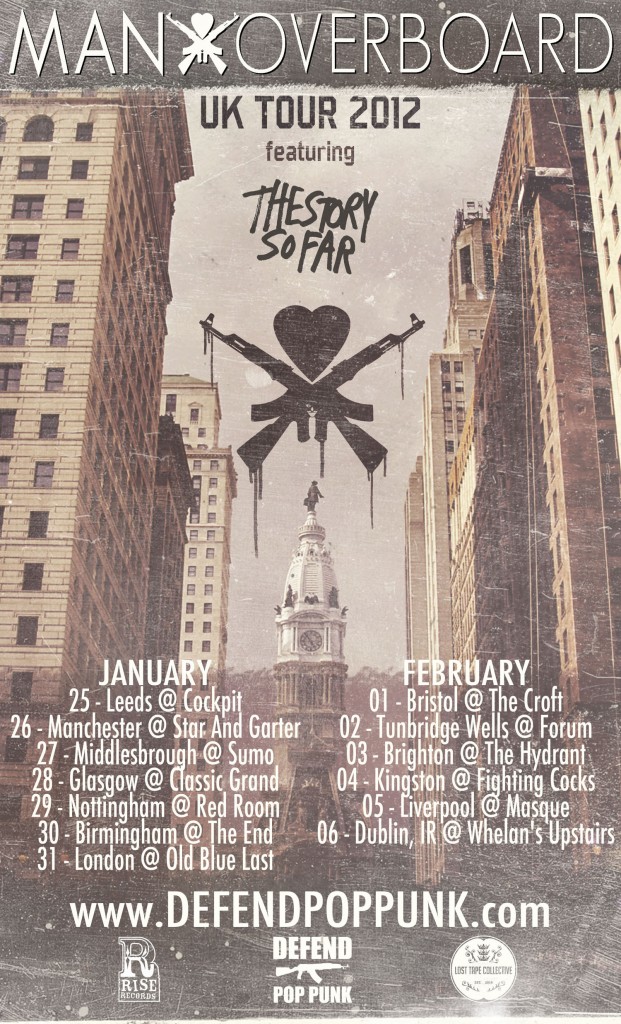 You guys are in the UK quite a lot, what keeps you coming back?
We came over the first time with Transit and then the last day of that tour we were at the airport waiting for our flight home and I got an email from Buddy from Senses Fail and he was like 'Yo, do you guys want to come to the UK with us in February?' and we were like 'Yeah!" We had a good time, so why not? So we headed back that time and then when the summer rolled around we had just finished doing our new record and then we were going to be going out on the Pop Punk's Not Dead tour in America in the fall and Polar Bear Club asked us to go to Europe with them so we ended up going for the third time in like eight months or something and now we have a new record out so we're going back again and then back again for the Rock Sound Tour so we're always around!
The fans always come out for you guys too. Do you have any favourite places to play in the UK?
We've played Glasgow twice now and that's always really awesome. Leeds is always cool, Manchester's always cool…I think we've probably played Manchester and London the most, we've played them every time we've been over. A lot of those cities are really cool. On this tour we're playing a couple of places that we haven't played as much, like we played Bristol with Senses Fail but we've never done a headline show there and a couple of other spots so that'll be cool as well.
You're set to play every night you're over here. Are you use to those busy schedules?
You know, we didn't have a ton of time to do the tour because we've got other stuff going on the whole rest of the winter and spring. So it was like, we can come over for twelve days and play eleven shows and on the one day off just sit around, or we could just fucking do twelve shows while we're there. If it was the summer and we could have a day off and go to a water park? Maybe. But it's the winter so I'd rather just do a show and have fun.
You guys have had a busy year, what do you do in your down time?
I usually live in Philadelphia; some of the other guys live in Jersey. Nick our singer runs a recording studio. The off time for this tour was pretty much spent on the Thanksgiving holidays with our families and then we've just been rehearsing because we have a new record so we've been practicing the new songs for the upcoming tour. So we haven't really had a ton of straight 'nothing to do time'.
You guys have a new album out. How was the whole experience of writing, recording and moving to a new label? Did it feel like it was a long time coming?
We had been talking to Rise Records for a while but we signed with them last fall and then we announced it in December. We were always on tour so we didn't have a whole lot of time to sit at home and write the record so it sort of got written in parts, like in between tours, on tour and then the month before we went to record. So I think things seem really far apart for us, like when I think about going to the UK for the first time it seems like it was forever ago but it was actually a year ago even though it seems like five years ago. Time flies.
You recently gave a load of cool stuff away with the Spunn single. Fans got the track, guitar tabs, lyrics, artwork etc. How did that idea come about?
I always try to give stuff away for free for kids to check out and show to their friends. We do the Defend Pop Punk Podcast, it's basically blocks of songs and it's narrated in between by some of the guys in the band and it's just a way to get kids in to new bands and stuff like that. With that Spunn thing that we did you got the MP3, the lyrics, the guitar tab, wallpapers and all this stuff because we do a lot of those downloads and I thought it'd be cool to put into the zip file all this other shit because kids are always asking for tabs and lyrics or whatever so I just figured people would get psyched on it.
You guys are big advocators of the motto Defend Pop Punk. Why do you think it's worth defending?
It's not like we're actively out defending pop punk, it's not really about that. It started as a tee shirt and it's grown into this bigger thing but what it's kind of become is just a way to get kids into new music and make a community. There's a Defend Pop Punk group on Facebook, it's like a message board and there's like 12,00 kids on there that hang out and talk about pop punk and shit and we do the podcasts which hopefully expose kids to some new bands and get them into some new stuff. So I mean it's really more about that and not defending pop punk from anything. It's more like promoting pop punk.
How important do you think it is in today's music scene? Do you think it's important to keep it alive?
Yeah, I think there's actually a really good scene right now. In Philly there's a radio station that usually plays a lot of indie shit and now is playing New Found Glory and stuff like that so that's pretty interesting to see.
What do you guys have planned for 2012?
We're coming to the UK and then we're going to come back and do a US tour and then we're going to come back to Europe and do the Rock Sound Tour and then we're going to do some more US touring that I can't really say yet…
The world's suppose to end in 2012, are you worried?
Erm…not particularly but if it happens it happens!
UK Tour dates:
Jan. 25 – Leeds @ Cockpit (Tickets) – moved to a bigger room after the small room sold-out! get tix now
Jan. 26 – Manchester @ Star And Garter (SOLD OUT)
Jan. 27 – Middlesbrough @ Sumo (Tickets)
Jan. 28 – Glasgow @ Classic Grand (Tickets) – 50% soldout. Get tickets soon!
Jan. 29 – Nottingham @ Red Room (Tickets) – 90% soldout. Get tickets now!
Jan. 30 – Birmingham @ The End (Tickets)
Jan. 31 – London @ Old Blue Last (Tickets) – 75% sold-out. Get tickets real soon!
Feb. 01 – Bristol @ The Croft (Tickets)
Feb. 02 – Tunbridge Wells @ Forum (Tickets)
Feb. 03 – Brighton @ The Hydrant (Tickets)
Feb. 04 – Kingston @ Fighting Cocks (SOLD OUT)
Feb. 05 – Liverpool @ Shipping Forecast (Tickets)
Feb. 06 – Dublin, IR @ Whelan's Upstairs (No Adv Tix)
Words and interview by Simon Bland.