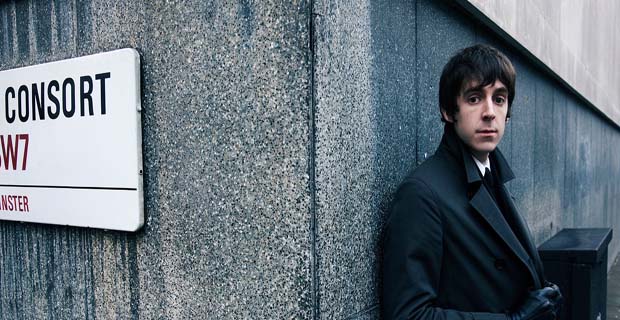 Although he's only 24, Miles Kane has already notched up a six-year career in the music industry. Beginning as a guitarist in Scouse band The Little Flames at just 18, he edged his way towards centre stage when he fronted The Rascals. But although both bands enjoyed short-lived success on the local Deltasonic label, neither project gained the recognition he believes they deserved and it was only when he teamed up with Alex Turner to form The Last Shadow Puppets that he made his way into the public consciousness. Now, with a healthy dose of support from the music press, and a couple of rock 'n' roll mates, he's venturing out on his own, and this time, he's refusing to be ignored.
httpv://www.youtube.com/watch?v=5ArKce0jgjc&ob=av2e
It's understandable that Kane feels he's paid his musical dues and that the time is ripe for his turn in the limelight. Having completed his solo album, he's now suited and booted for promo, and there's not a knackered pair of Converse in sight. Instead pea coats and winklepickers give Kane an air of maturity, while his Weller-inspired haircut and Gallagher-like swagger tells us he's ready to play with the big boys. Ten out of ten for effort – he's obviously studied his history books of rock 'n' roll greats closely before crafting his own manifesto, but behind the well-constructed arrogance, he maintains his roots as a working-class lad from Wirral. Readying himself for a gig at the Royal Albert Hall in London supporting Beady Eye, we meet after he's had lunch with his mum and aunt. They, along with a load of Kane's mates from home, have come to show their support.
"It means a lot," he says. "Especially my mother – she means the world to me."  But despite playing impressive venues and touring in support of arguably one of rock's best frontmen, he isn't resting on his laurels just yet. He's been here before, and it hasn't exactly gone to plan in the past.
"I've done a lot of different things but I feel that I'm still on this journey and I haven't achieved what I want to achieve yet," he admits. "Even though I've been around and some people may know my name, I've got to work as hard as anyone else out there – there are that many new bands and artists around and everyone wants a slice of the cake."
Following his departure from The Little Flames, who had been zapped of their energy, according to Kane, after re-recording their album five times and never having it released, Kane and former bandmates Greg Mighall and Joe Edwards became The Rascals.
Meanwhile, Kane and newfound friend from touring Alex Turner set out to record a few tracks. The result was The Last Shadow Puppets and the 2008 Mercury-nominated LP The Age Of The Understatement. But how did The Rascals feel about their frontman teaming up with Turner, who was at the peak of his career and bound to earn Kane some recognition?
"The boys in the band they were obviously unsure in the height of it but, to be fair to them, they weren't bitchy or horrible. Al's like a brother to me and everyone knows that. Greg [Mighall, drummer] and Joe [Edwards, bassist] are my best mates; they knew that and The Monkeys knew that. We made a record in two weeks and we didn't go into the studio to do that. It was that quick and that natural and it just got bigger and bigger. You can't fight those things."
Just three months later, The Rascals, who had been tipped as one of the bands of 2008, released Rascalize. The album was a commercial flop, peaking at 100 in the charts and dropping off completely after only a week.
"You're in this kind of bubble at the time, but a year later when you're on that come-down period and it all kind of sets in, it's gutting. For some of the last few gigs, it wasn't really happening and then we split up. There was a massive come-down period for me because I'd been at the height of The Puppets and then to go to absolutely nothing, and for your band split up, it's a proper comedown and it took a while to get my confidence back up."
While having to contend with the failure of The Rascals, Kane was simultaneously dealing with criticism for hijacking the success of The Arctic Monkeys and shrewdly teaming up with the man of the moment, a claim he denies fiercely and is still trying to escape today.
"I know the score. I'm not a soft lad," says Kane, sounding slightly disheartened about being asked about this backlash again. "A lot of people just thought: "Who's this new kid?" Obviously Al had sold loads of records and I hadn't and I accept that. I've always been aware of that factor. On paper, to an outsider people just think "oh, he's just Alex Turner's mate" and that's fine."
Accusations of piggybacking and having not written a lot of The Last Shadow Puppets' material have left Kane with a point to prove.
"Weirdly, I suppose, that's why I've made this record. I can only make music and that's all I want to do. If anyone doubts me then they can listen to my album and if they love it, they love it and if they still don't like it, sod 'em."
httpv://www.youtube.com/watch?v=V7g8zhk5KZM
With no one to blame for success or failure but himself, going solo seems like a wise move for Kane, whose reputation is at risk of preceding him. The album, Colour Of The Trap, shows no signs of Kane's knocked confidence and has all the self-assuredness necessary for an anthem-packed record.
"The guy I have to thank the most for that is Super Furry Animals' Gruff Rhys and even Columbia Records because they took me on just hearing these rough demos, and they believed in it. Gruff spurred me on and said: 'You can do this – these demos you've written are amazing'. So I'll always thank him for that."
Similar to his previous endeavours, his solo material is heavily sixties-inspired but Kane, born smack bang in the middle of the eighties, doesn't think he was born in the wrong era or that he should have been the fifth Beatle.
"John Lennon's my hero so of course it's a big influence but just because you're from Liverpool you don't think 'god, I'm so connected to the Beatles' It just is what it is. I've got Lennon above my bed and I've got pictures in my living room but it's just what I like and it's what's in me, I guess."
Kane cites other influences on the album as French singer Jacques Dutronc, Lee Hazelwood and T-Rex while a couple of showbiz mates such as Noel Gallagher and – you guessed it – Turner have added their input to tracks. The result is what Kane believes to be – a great album that nobody can argue with.
"I hadn't done a gig for about two years and I would get frustrated about that, but when I look back I'm so glad that it did take time because I feel a different lad to before. I feel more ready than I ever have and more relaxed. I know who I am and that's important. And this record for me, without getting cheesy or over the top, is where I sort of found myself."
Words: Antonia Charlesworth