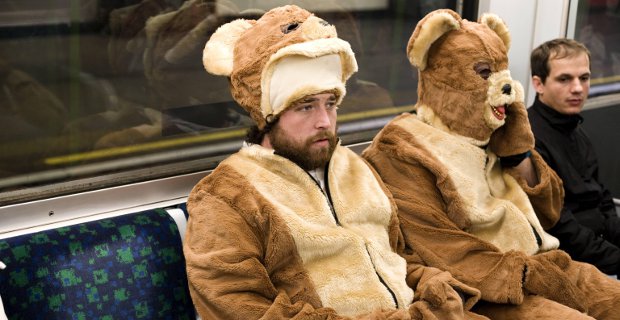 Despite current divisive economic trends two rotund gents from London are quantitatively easing doleful moods by offering bear-hugs and '90s house inspired dance-floor euphoria. Hot Chip's Joe Goddard and former label-man Raff Rundell's tongue-in-cheek collaboration has roots in the recession, yet its life-affirming disposition is summed up by the album title, Be Strong.
Raff was made redundant after a 12-year music industry career. He worked for the 1965 label, a subsidiary of Sony BMG, with acts including The View and Toddla T but it wasn't to last. "We'd basically spent a load of Sony's money and then the credit-crunch happened," he says with a roaring laugh.  Having been a club promoter, label manager, and press officer, this is his first emergence from behind the scenes. "It's much more fun being the artist. I've finally sussed out that's the best job."
Taking bad news on the chin his outlook was simple; "You've got to do what you love and hope you can still pay rent and buy your bananas." He and Joe had once talked about forming 'the three bears' with Joe Mount but, alas, he's ruined a pun by going on to front the Mercury Award nominated Metronomy. 
After sessions for Hot Chip's One Life Stand ended, both began making tunes. "I was thinking what are we actually going to do? He's quite successful and in a proper band," remembers Raff, initially daunted. "You have to throw yourself into these things," he decided. It wouldn't be long before the two would be seen on the decks wearing budget bear suits.
Things began in Joe's rented flat, with Raf perched on the end of his bed, singing for the first time. "It's sort of like watching the first round of the X-Factor back," Raf explains about his initial efforts. Now his untamed vocals are a signature of the Bears' humour.
Since then it's been uphill for the duo, fans allegedly include Sir Paul McCartney and Elton John, plus Joe has bought a house and built a studio within. "It's bigger than his bedroom was so I get to sit on a chair now," explains Raf. Southern Fried Records released their debut on 30th Jan and lots of festival dates are planned. As for the initial bear suits bought by the label, surely they've rocketed in price?
"They'll be worth a lot less now because we've been sweating into them for a year and a half. They can almost stand-up on their own nowadays," says Raff. With the project escalating plans are afoot for a hi-tech revamp. "We want Daft Punk style bear suits. Maybe with an air conditioning unit on the back…"
Words: Simon Butcher