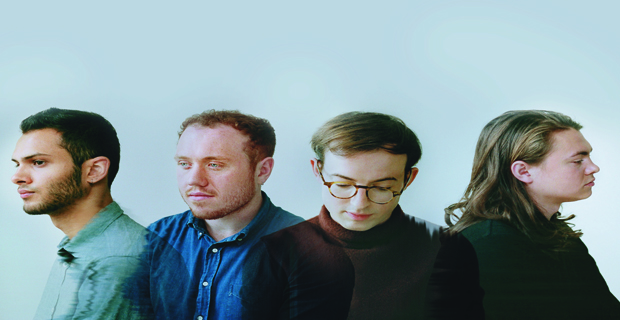 On record, intricate indie lads Bombay Bicycle Club are quite composed. Notes are strategically placed, every pause in their musical pulse detailed and deliberate and most recently each synth-blip thoughtfully positioned. However, tonight all that's gone straight out of The Albert Hall's beautifully designed stained glass windows. Maybe it's because they're in a newly refurbished chapel hall and feel a little possesed or perhaps they're just cutting loose in celebration of ending their UK tour in our fine city. Either way, part one of their two-night Manchester residency is a raucous belter, showcasing new tracks and a healthy selection of faves with gusto and the added oomph of a micro-brass section.
They're here tonight in support of new album So Long, See You Tomorrow and based on the crowd reaction to album/set openers Overdone and the the irresistibly catchy It's Alright Now, their new one has clearly hit its target. It's these fresh tunes that get the bulk of tonight's airtime along with a cherry-picked selection of amped-up tracks from 2011's A Different Kind of Fix and 2009 debut I Had The Blues But I Shook Them Loose. The oaken, pensive mix from 2010's Flaws are noticeably absent but the party atmosphere has people in a forgiving mood. The irregularly infectious Shuffle sets the tone, with older tracks Magnet, Lamplight and Evening / Morning giving bassist Ed Nash a good reason to flail his hair about and get a bit giddy.
Creating a wall of sound seems to be the band's mantra tonight and they're good at it. How Can You Swallow So Much Sleep and hypnotic snake charmer tune Feel reap the full benefit of their accompanying brass section. Even slower tracks like somber new one Eyes Off You gets a blast of adrenaline when the volume's turned up a notch. Support act and regular Bicycle Club collaborator Rae Morris beckons in tonight's camera phone moment, inexplicably appearing to accompany frontman Jack Steadman on the dreamy Luna, meanwhile victorious single Always Like This keeps the party fire fuelled.
The destructive vibe clearly infected tonight's lot, as they stomp and shout their way to demanding another round. The band gratefully accept and lay down a challenge of their own. 'Let's tear this lovely building down,' instructs Steadman. It's the last thing we hear before chaotic new single Carry Me is unleashed. The Albert Hall's inhabitants are happy to oblige, putting the venue through its paces and closing out the night by exorcising a few demons of their own.
Words by Simon Bland. @SiTweetsToo
Be sure to 'Like' us on Facebook and follow us on Twitter to keep up to date with all the latest Northern music news.