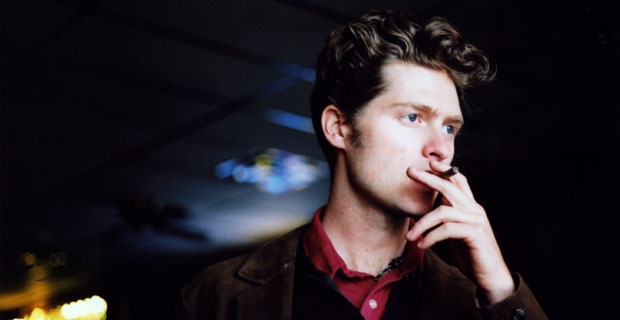 A gig set for a valentines date can go one of two ways. Either it can be a romantic outing enjoyed by couples who wish to celebrate their love for each other, or a venue can merely become a dimly lit haunt for the lonesome to hide away in while wallowing in self-pity. James Apollo's introspective material may well suit the latter scene, however tonight's intimate performance was a passionate affair.
When we say intimate we really mean it. Upon entering the venue Northern Noise are part of a five person strong audience, one of which is a barman who flits in and out, depleting the spectacle by a fifth each time, and diminishing our ability to enjoy a libation. The audience increases, a soundman arrives, and the show begins with support coming from Joshua Caole.
This Cardiff based songwriter has an incredible voice, made all the more gripping due to an unintentional husky quality resulting from a recent bout of the flu. Tonight Caloe plays solely with an acoustic guitar and harmonica; this stripped back approach adds emphasis to a lyrical sharpness integral to each song. Beginning with One Of You Again, a missive to a past life of revelry escaped in favour of the wider-world, it is clear that there is talent in this room which deserves to be heard by more than the guy behind the bar. Caole nostalgically remembers his youth, with "kids face down from the night they had before," wishing to still be a part of this hedonistic life and yet realising the possibilities of a wider world.
Caole fumbles around for a harmonica with the right tuning between songs and at times seems like a rabbit in the headlights. This is not helped when the seventh audience member enters, an employee who turns the stage lights on to a full-beam of white light, leaving him dazzled. Nonetheless, when immersed in the act of playing his ability is clear for all to see. The set finishes with Wish You Were Where, the first track from September's Slow Hearts EP. This poignant moment beautifully describing an unrequited lost love is a fitting end.
With that half the 'crowd' disappear backstage! As we wonder what's happening they then re-emerge and pick up instruments. James Apollo and his band go on to play with incredible intensity, treating this poorly attended gig with the same vigour as any other. Having previously been mistaken for just another audience member, Apollo is unforgettable on-stage. His sweeping vocal tone alludes to the late Jeff Buckley and appearance to a young Bob Dylan, while his brooding lyrics can come from nowhere other than personal understanding.
Apollo is a troubadour in the fullest sense, having left his home in Libertyville, Arkansas; many years ago in search of the wisdom life had to offer. He headed West in search of an adventure to rival Kerouac. A Romanticised journey has seen him becoming accustomed to makeshift mattresses, car backseats, couches, and freshly swept diner floors.
Tonight's material gives a cathartic voice to everything experienced, from those first tentative steps on the dusty road to his upcoming summation record, fittingly entitled Born Lucky. "There's an old saying, 'I'd rather be born lucky than rich'. I stepped back and looked at everything I had. It wasn't everything I wanted. But I found the things that I was bitching about were comically small. Some things you earn and some things you're born with. If you're born with an ability to cope with this world, well then," he explains.
"It's only leaving that makes a home at all," he sings during No East, No West, emphasising a wandering spirit. Lyrics are all delivered with a smooth rasp of gravel-weighted familiarity, especially as The Bottom gets an airing. This moment of genius comes from the darkest recesses of his tale, beginning in an operatic harmony before swooping down to convey a descent into peril. "You can't get lower, that's the bottom, where you met me," he tells.
When Apollo introduces a song called Happiness, you may well believe things are to get brighter, but these are the stories of a troubled character. "Happiness is a laughing face at your emptiness," he bellows. How Hard sees this wilfully misunderstood persona cry "I admit it's a pretty tough sell, loving me never did anyone well."
It's hard to know how much of this troubled unlovable rouge image to take seriously, but whether hyperbolised or not, we cannot deny that it does make for some memorable music. Newer material including the title track from Born Lucky has less of this dismal demeanour, favouring a more immediate impact. The set closer is a fantastic outburst called The Violins, which sees all band members moving fervently around the stage, ensuring rapturous applause from the audience, which was almost exclusively Northern Noise. With the new record, Born Lucky, set for 11th April we may never see such an intimate showcase again.
Listen to James Apollo's UK debut Til Your Feet Bleed here (it's very good).