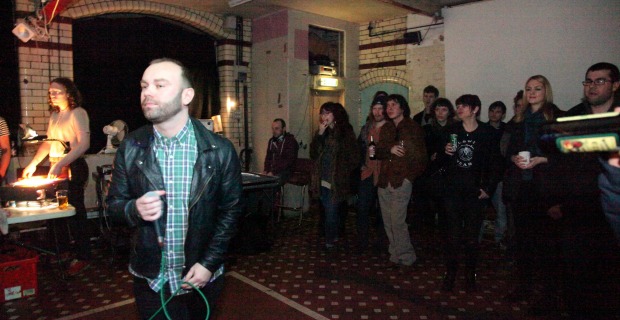 Mixing up local bands with a careful selection of talent from a wider geographical area and presenting them in an equally incongruous venue for the Karma All Dayer resulted in a welcome refuge from the distinctly unfriendly weather.
Taking place a mere 7 months after part 1, finding the venue requires a walk down the oldest street in Leeds, Kirkgate, turning right into street that at night would probably be given a wide berth, then looking in vain for some sign indicating "Wharf Cooperative". But there isn't one.
Take a chance and enter through one of the open doors into a room that seems like an old fashioned canteen, you will know you have arrived when you see the sign indicating that a member must sign in guests. A quirky layout of adjoining rooms and spaces adds to the experience though with the use of "unisex" toilets don't expect too much privacy
The darkness of the almost subterranean venue made it difficult to see how the two members of Gundog looked, but judging by the number of times they reference "disease" in their songs, the bleak, threatening, output is the perfect matching accompaniment.
Dull Aches, generate a rawer, initially more brutal experience, that seems to cull some of the vibes from the likes of the Black Sabbath songbook before blossoming out into a more layered, frantic mix of synthesised sounds
Rather than screen PowerPoint presentations, the overhead projectors bathed Chaika, hailing from the Leeds area, soft, warm colours, complementing their swirling, intense, musical moods. Front man Joe Evans has a level of charisma persona and eye catching mannerisms to command the attention of the onlookers, from the way he grabs the mic stand or staring intently into the crowd.
Ian Burton takes the crowd interaction element a bit further as he takes the microphone and walks out across the room to provide some more personal renditions. His tongue is firmly stuck in his cheek as he introduces one number by his band "The See No Evils. Expressing concern and sympathy towards another member of a band currently in the spotlight. "This one is titled `I'm gonna miss you when you've gone`. It's dedicated to Zayn Malik." Then we're off into series of abrasive, quick fire, numbers that are lapped up by the crowd.
As the crowd move like the sea tides between the bar and back room during the band breaks, they mix with cyclists taking a rest or people just popping in for the decent ales, or tea/coffees etc. Like the line up it's an eclectic mix, probably worthy of further instalment though maybe in less that seven months.
Words and photography by Ged Camera.
Keep up to date on all the latest Northern entertainment news by following us on Twitter, Facebook and Google+.