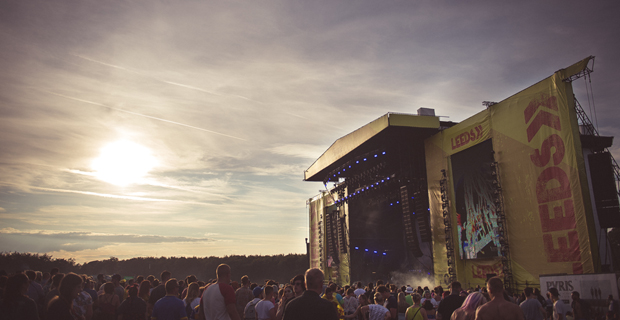 Tents, cider and what's this… Not a rain cloud in sight! Nope, you're not imagining it. Leeds Festival 2017 came and went this weekend with a blistering line-up and (mainly) sunny skies, offering the perfect opportunity for one final knees up before summer ends. As the one of the UK's longest running festivals, Reading and Leeds has built up a reputation of offering the best in alternative music and this year's edition was no different. Couldn't make it? No worries. Here's a taster of what you missed…
Headliner Action
Surviving the long haul has become trickier and trickier for major UK festivals. With grassroots events providing the perfect showcase for up and comers, there seems to be fewer headline-status bands ready to top the bill on the season's heavy hitters. After all, there's only so many times you can see the Foo Fighters before the novelty wears off. Leeds Festival 2017 combated this by presenting a trio of acts ranging from rock legends, mainstream faves and a voice that spoke to the die-hard demographic that made up the festival's regular crowd during its 00's heyday.
Muse lit up Friday night with a career spanning set that saw frontman Matt Bellamy take audiences on a tour of the band's extensive back catalogue. "Plug in Baby" started things on a ferocious note before fireworks, streamers and "Knights of Cydonia" closed things on a thundering high. Cut to Saturday and it was clear that the extensive radioplay gifted to Kasabian's new tracks had more than paid off as an entire field serenaded the Leicester quartet with their own lyrics during 'You're in Love With A Psycho" and classic crowd-pleaser "Fire". They even managed to squeeze in a cover of Fat Boy Slim's "Praise You" for good measure, much to the delight of the audience.
However it was Sunday's closing act that pulled the biggest crowd thanks to a rare UK set from Marshall Mathers. As an artist who was undoubtedly on the battered MP3 players of countless rock fans during the early 2000's, Eminem's appearance at Leeds was met with open arms from festival newbies and veterans alike. Tracks like "Kill You" hit fans like a shot of pure nostalgia, while closing anthem "Lose Yourself" polished off a whopping 33 song set with a bang. Your move, 2018.
Mid-Day Treats
Leeds may be tinged with a little 'beginner's festival' stigma but one thing you can't knock it for is its pure variety of acts. Wander around the event's cosy arena during the day and you'll find packed-out dance tents, tomorrow's biggest indie outfits, lo-fi American rock and stand up comedy courtesy of the best new performers in the biz.
There was loads to see but just a small taster of the fun included sets from Daniel Sloss, Simon Amstell and Bill Bailey at the Alternative Stage, Aussie metal quartet The Amity Affliction and Neck Deep conquering The Pit, Manchester's own PINS, LA's Deap Vally and emo rockers Moose Blood bringing admirable crowds to the main stage and Glass Animals finishing up one of the most successful summer festival runs of recent years in the NME/Radio One tent.
All that without even mentioning sneaky secret sets from Queens of the Stone Age and Wolf Alice. In fact, the only downside to Reading and Leeds' fit-to-burst 2017 rosta were the numerous clashing woes. Needless to say though, you had a hard time being bored.
Line Up Combos
Did we mention there was a lot on? Well, there was and it certainly didn't go unnoticed, particularly in the random line up combinations on the main stage. If you went to Reading and Leeds way back when then you'd probably be use to seeing nu-metal, pop-punk and prog rockers dominating the festival's focal point. Cut to 2017 however and things are rightly different. Still, that didn't stop it being a little strange hearing kilt-wearing Korn frontman Jonathan Davis cueing up Major Lazer's set in a grizzled metal growl.
Oxymoron pairings like this happened quite a bit. Acts like Rat Boy were on the same bill as Jimmy Eat World, At The Drive In followed Migos and Architects appeared on stage shortly before floppy-haired indie kids Blossoms. We get it though – main stage lines ups need to cater for the majority, which can be tricky when balancing the festival's new demographic with its alt-rock roots. Leeds Festival's audience has changed and it's had to roll with those changes in order to survive. That said, it was still a little jarring.
Crowd Critique
Speaking of crowds, there's one thing that springs to most people's minds if they're over 25 and considering returning to Leeds Festival: Aren't I a bit too old for it now? It's a valid question and the answer is… well yeah, probably. It's hard to deny that the overall demographic of Leeds Festival is made up of cider-swigging teens who look like they're either piercing the space time continuum with pin-hole sized MDMA peepers or moments away from puking up all that cider they've just swigged.
Leeds isn't entirely populated by rejected Love Island contenders, though. Look closely and you'll see some older folks there too, a surprising amount of them in fact. It's perhaps one of Leeds Festival's most undersung qualities; here's an event that not only attracts its target demographic but also a healthy amount of people beyond that demographic as well. From teenagers and thirty-somethings, right the way to families and young couples with kids, complete with giant sound-proof headphones for the little ones.
So don't let the stereotyped image of a typical Leeds festival punter put you off – It's not entirely accurate. Don't take our word for it though. Head down next year and see for yourself, and would you look at that – tickets are on sale now.
Check out a gallery of select performances below…
Words by Simon Bland (@SiTweetsToo).
All photography by Vanessa Louise Creative.
Keep up to date on all the latest Northern entertainment news by following us on Twitter, Facebook and Google+.