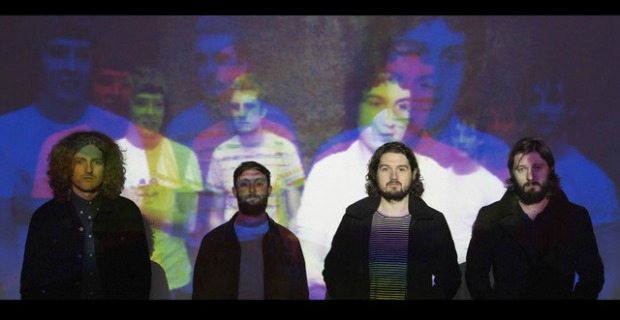 It's been 10 years since Sheffield lads Milburn released their riotous debut Well Well Well, a record responsible for filling Red Stripe stained indie club dancefloors and attracting a throng of diehard fans in the process. With the band calling it quits just two years later in 2008, Milburn lovers were left a little in the lurch. However cut to 2016 and we find the band in the midst of a reunion tour and judging by atmosphere in the O2 Ritz tonight, they've landed in Manchester just in time.
"Did you miss us?" bushy haired frontman Joe Carnall asks the mixed and very inebriated crowd. The question hardly needs an answer. The audiences' constant chanting refrain of the band's name sort of says it all and when the pounding beat of titular track "Well Well Well" starts to kick in, punters put their money where their mouths are and show Milburn just how glad they are to see them again.
Tonight the band stick to the hits while peppering in a few newer tracks here and there. Proof that while their touring activity may have slowed, their ability to write riotous indie tunes certainly hasn't. That said, this brief UK trek is a celebration of all things Well Well Well and as such, it's this album that gets the most airtime. "Send in the Boys" surely transports tonight's sweaty gathering back to their uni days with growing pains track "What About Next Time" pushing them over the edge. Tracks from the band's 2007 and (as of yet) final album These Are The Facts make an appearance too, with the likes of album opener "Lo and Behold" and the brutally honest "What Will You Do (When The Money Goes)" keeping the pace up.
The temperature in the Ritz rises as "Storm in a Teacup" arrives, filling the venue with that jangly post-indie sound we've now come to associate with the late noughties. These Are The Facts track "Count to Ten" closes out the band's main set before they're demanded back onto the stage by a vocal rabble who aren't quite done with them yet. Carnall's somehow manages to calm things with a welcomed rendition of "Roll Out The Barrell", spurring people on to join arms and sway for a bit of a singsong before party track "17" ends things on a more energetic note.
As Milburn hang up their guitars and wave Manchester goodbye their future may be no less clear than it was two hours before. However judging by their warm reception here tonight, there are clearly a lot of people who wish they'd make this gig thing a more regular occurrence.
Words by Simon Bland (@SiTweetsToo).
Keep up to date on all the latest Northern entertainment news by following us on Twitter, Facebook and Google+.