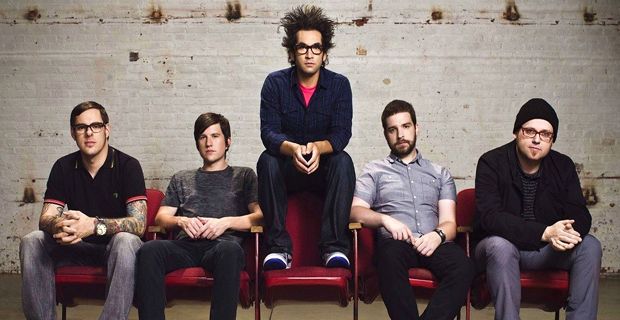 "This song use to be about the future but now it's about the past," exclaims Justin Pierre, the crazy-haired frontman for Motion City Soundtrack. He's about to rip into a crowd-pleasing rendition of one of their older tracks, The Future Freaks Me Out. And what a crowd it is. Tonight, Manchester's Ruby Lounge is packed to the rafters with punters who wanted a Motion City Soundtrack gig so bad, they demanded it, jumping at the band's offer of a special intimate UK show.
The rules were simple. Fans vote for the city they want the band to visit; the first city with 150 votes is rewarded with a tiny gig. Manchester won which would explain why it's so very warm in The Ruby Lounge tonight. With literally no space between band and listener, saying tonight's gig is an intimate affair is a bit of an understatement. More importantly however, judging by Pierre's pre-song comment, it's also a touching testament to how far Motion City Soundtrack have came since their formation fourteen years ago.
Cut to 2012 and the band have just wrapped their fifth studio album, Go, which they'll unleash on fans in June.  Tonight however, it looks like they've decided to reward UK listeners for their years of constant support. Before effortlessly summoning a mancunion chorus to help him perform The Future Freaks Me Out, Pierre and co, squashed together on this tiny Northern stage, have fired out fan-fave after fan-fave.
My Favourite Accident warms the crowd up nicely, shooting a wave electrically charged pop-punk energy throughout this tiny venue that doesn't ebb. From then on out it's a grab bag of their greatest hits. Feverish renditions of Broken Heart and Her Words Destroyed My Planet lead to some brief technical hiccups forcing Pierre to engage in some impromptu and comical crowd conversation. However this doesn't last long and soon enough Motion City Soundtrack are powering through tracks spanning all four of their previous albums. Breathless performances of Capital H, Attractive Today, Disappear and the aforementioned Future, prove to be just a few of the many show highlights on offer tonight, with the band having just as much fun as the increasingly energetic crowd.
As their greatest hits set comes to a close they tease Manchester with a taste of what's to come, cushioning a performance of their chirpy new single True Romance between older tracks A-Ok and tonight's closer, Weakends. It's enough to whet the appetite and leave us wondering what other gems Go has to offer, and nestled between Motion City Soundtrack's wealth of classic tracks, reminds us once again of the comment that kicked off this review. The speed at which the band's storied past has flown by may freak Pierre out a bit, but its future holds nothing but excitement.
Words by Simon Bland.