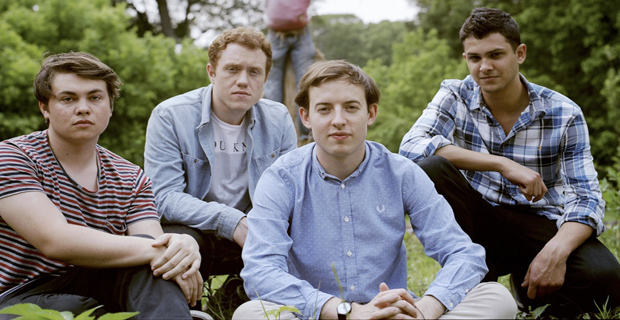 From guitar laden indie rock 'I Had The Blues But I Shook Them Loose' to tender folk melancholia 'Flaws' to catchy pop synth something or another 'A Different Kind Of Fix' you'd be forgiven for thinking North London's Bombay Bicycle Club might be having a bit of an identity crisis.
But bless them, they're only young, they recorded their debut album just after finishing sixth form and despite everything the contrast works. Frontman Jack Steadman's wavering voice, against reason, seems to be the perfect foreground for whatever genre they decide to play around with.
To see if the newly acquired mega fandom has affected their usual humble gait we caught them at Blackpool Empress Ballroom.
The Empress Ballroom is a majestic backdrop for any live act, but something seemed particularly felicitous about Bombay's entrance with 'How Can You Swallow So Much Sleep'. A quiet excitement buzzed in the air and it certainly felt the most natural track to ease us in. You could have been fooled into expecting the set to continue subdued with plenty of woeful tracks from the second album 'Flaws' but it was quickly apparent that they were keen to get back to the heavier stuff and burst into an energetic 'Cancel On Me'.
If you caught the band last year, you might have noticed a quiet, thoughtful performance strewn with abashed thank-yous and grateful, alongside slightly overwhelmed smiles. Not this time. The cusp of success has been and gone and the band seems to have taken the acclaim and come back with professional skilled confidence. It's nice to see a group mature so boldly and yet still seem humble.
The band was animated in full pelt and Steadman was sporting his Ian Curtis-esque  jerking dance moves of old. Keenness to 'I Had The Blues But I Shook Them Loose' was evident with exuberant performances of 'Evening/Morning' and the up-tempo version of 'Dust On The Ground' driving the crowd.
It wasn't all boys with guitars though; the set undulated from the thrashy to the pretty and Jack's musicality shone through when artist in her own right Lucy Rose joined him on the piano for a haunting rendition of 'Still'.
'Ivy And Gold' was enlivened with an impressive water tank rhythm solo by drummer Suren De Saram and they announced the last song before a vigorous delivery of the now anthemic 'Always Like This'.
An encore was never in doubt after such an engaging performance and the spring floor of The Empress Ballroom beat heavily until the first notes of pop super hit 'Shuffle' rang out to a hungry crowd.
They finally bowed out to an astonishing rendition of debut album opener 'Emergency Contraception Blues'.
Though never stereotypical puerile youths, Bombay Bicycle Club have aged and with it their sound. A new found sense of emboldened confidence has brought with it an energy and evident musical maturity without withdrawing the spirit of youthful frustration that led them onto the musical path that they are on now.
It feels as though, brilliant as they are there is still time to peak and their exposure has yet to reach us all. So if you want to see them before the inevitable arena tours, get your running shoes on.
words by Sophie Lea
—————————
If you enjoy live music then why not come to one of our shows? Get tickets here.