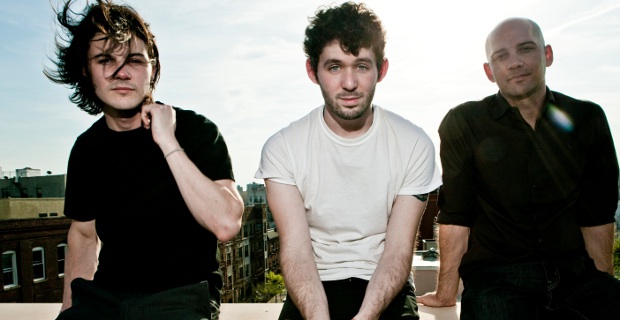 We've come to anticipate live bands will play defining songs – typically from early albums. But The Antlers – with a back catalogue of four incredible albums – chose a daring path by selecting songs from only their latest two; Hospice and Burst Apart.
Parentheses makes for a tranquil opener; showcasing frontman Silberman's falsetto croonings with the contrasting outbreak of electric guitars, complimenting each other seamlessly.
 Silberman thanks Manchester for the turnout, then Antlers jump into French Exit; a song about a faltering relationship – this clearly isn't a band afraid to tug at the heartstrings. The tune is heavily dependent on keyboardist Darby Cicci's electronic influence.
The Brooklyn trio become a quartet on tour with the addition of guitarist Timothy Mislock. With the exception of the first song, he didn't really make an impact until Every Night My Teeth Are Falling Out, Rolled Together and Hounds made their appearance somewhere in the second half; songs that rely on Mislock's instrumental input to vary them from their studio counterparts. It's a real shame they didn't play the upbeat Two to really take advantage of the extra oomph.
The band convey every song, even Sylvia – one about a woman who killed herself – with passion and energy that has nothing to do with entertaining the crowd, but everything to do with giving it their all. How do I know this? Darby Cicci's confused idea of wooing the crowd was to ask "Is everybody perfectly contempt with the world?"
The crowd were stationary throughout proceedings. There were no elbows in my back, beer splatters in my face or any other general discomfort you'd find at a typical gig (though at the time I kind of missed it, 'cause those things make a gig a gig, right?). This wasn't a sign that the audience weren't enjoying the gig though, if anything they were spellbound – musically, the band were faultless.
Burst Apart's melancholy track, Putting the Dog To Sleep, rounded off the first set followed by chants from the crowd for just a bit more.
The Antlers returned to the stage to begin their encore with arguably Burst Apart's best song, I Don't Want Love. The show ends with Epilogue, the last song on the album Hospice and written about death, it's a fitting song in every sense to close with. An impressive set and I think they should be commended for leaving out songs from their former albums, although Nashua and the wordless Last Folk Song would have gone down a treat.
Words: David Wright