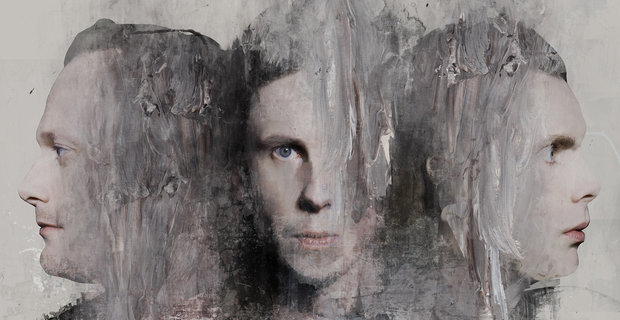 Live music's so often labeled a social act and something best enjoyed with company. Maybe that's true – but look around Manchester's Apollo theatre tonight and you'll find an entire crowd silently locked into an experience that's very personal to each one of them. Granting access to such an encounter seems to be the key skill of Iceland's premier ethereal rock trio Sigur Rós, a band that somehow manages to stop time and provide some much needed headspace whenever they pick up their instruments. A skill which in 2017 couldn't be in higher demand.
They're two nights into a three day residency when we catch up with them on a rainy Sunday evening and with no support to cue them up, they're clearly keen to cut to the chase. Tonight's show is split into two thunderous acts which, when combined with the eye-watering aesthetics of the band's set design, raises the stakes into territory akin to a piece of theatre. Elfen lead singer Jónsi creeps onto the stage almost as silently as the band's opening track, the solemn "Ekki Múkk", beginning a juggling act set consisting of delicate moments and angst ridden musical attacks.
Throughout it all is that ever-present stage design, an elegant feat that frames the trio in a cage of light, drawing audience attention in all directions and forcing viewers to stay on their toes if they want to take it all in. Light zips outwards, electricity cracks from the performers' silhouettes and once-hidden beams of light make themselves known and gently pulse in time with the music. The pounding stomp of "Glósóli" transports viewers to Sigur Rós's own distinctive, ambient world. A soundscape powered by bowed guitars, hypnotic bass riffs and tender vocals from its slight framed frontman.
Still, just when you think you've got the band pegged they're all too eager to pull the carpet out from under you. The dreamlike "Sæglópur" and creeping "Vaka" perfectly showcase the trio's angelic side, with the stars literally making an appearance during the former as stage projections rise to the ceiling to reveal the cosmos. However cut to two minutes later and drummer Orri Páll Dýrason is almost losing control of his bass drum during the furious climax of "Ný Batterí".
Singer Jónsi, the lynchpin that holds the cacophony of sound that is Sigur Rós together, outdoes himself by holding a single note for what feels like forever during "Festival" – not only an astonishing feat but a shining example of why audiences keep returning to this Nordic act. It proves to be the calm before the storm though, as the band conjure up all manner of emotions for the explosive "Popplagið", bringing tonight's set to a close in a burst of sound that's not easily forgotten.
Words by Simon Bland (@SiTweetsToo).
Keep up to date on all the latest Northern entertainment news by following us on Twitter, Facebook and Google+.