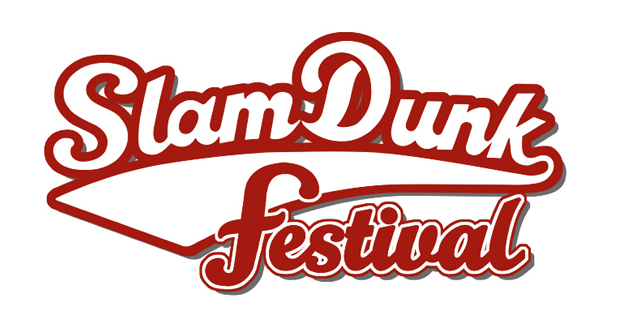 It's not just Manchester's live music scene that's stayed strong in the wake of all this chaos. The Yorkshire powerhouse that is Leeds isn't letting anything stop them from enjoying a good knees up either. Back for its eleventh year, pop-punk cityfest Slam Dunk Festival returned this May Bank Holiday for another round of day drinking and venue hopping, once again gathering an enviable line-up of genre legends and push-to-the-front newcomers for a day long session.
Centered around Millennium Square, this year's event marked the festival's inaugural takeover of Leeds' First Direct Arena, proof, if anyone still needed it, that Slam Dunk's popularity continues to grow year on year. While security may have been a little tighter than usual (for obvious reasons), once through the festival gates it was business as usual with pierced, inked and boozed-up crowds bustling from stage to stage. In fact, it was Slam Dunk's venue-hopping communal atmosphere – something that's usually taken for granted – that felt more prevalent than ever this year, adding to the already warm vibe that the fest seems to generate so effortlessly. A small trait, maybe – but one that went a long way given current circumstances.
For us, the fun started with South-West three piece Black Foxxes at the Key Club Stage, better known as the city's O2 Academy. Frontman Mark Holley's scratchy vocals have led this post-emo trio on a steady rise since the release of their 2016 debut I'm Not Well, so it's a relief to see the band come together so well in person. With a lineup that's jostling for punters' attention, it can feel like a bit of a crime to stay too long in one place at Slam Dunk. With that in mind, it's over to the other side of the festival, bypassing the herds heading to Cute is What We Aim For and The Maine's packed-out sets at the Monster Stage and hitting up the Signature Stage.
Nestled between uni buildings and a busy road, this very urban area of Slam Dunk is perhaps its most Warped Tour-esque, with fans huddling on the tarmac infront a cosy stage barely big enough to harness the noise it's producing. Genre faves Crime in Stereo return to Leeds for a set that seems barely long enough to satisfy their hungry fans, while Virginia's dream-rock quartet Turnover keep things light as the afternoon turns slowly into early evening.
However head over to the First Direct Arena and you'd be treated to something completely different altogether. This mammoth stage offers a new flavor to the festival that feels separate from the rest of the action but provides pop-punk/ska royalty an audience that's deserving of their decades of loyal service. With a crowd that seems to encapsulate (and exceed) the entirety of Slam Dunk's entire fanbase, legends Goldfinger are welcome with open arms whith fans continuing to lavish attention festival vets Reel Big Fish and Ska kings Less Than Jake.
From here, it's back over to the Jagermeister stage as St Albans electronicore outfit Enter Shikari celebrate ten years of Take To The Skies. A strong sense of nostalgia washes over a crowd who very much spent hazy nights during their late-teens and early twenties dancing to Rou Reynolds and co in their favourite rock dive bars. A brief cover of Oasis's "Half The World" Away gets the crowd swaying pre-encore before night time takes over and Slam Dunk 2017 comes to a close for another year.
Words by Simon Bland (@SiTweetsToo).
Keep up to date on all the latest Northern entertainment news by following us on Twitter, Facebook and Google+.