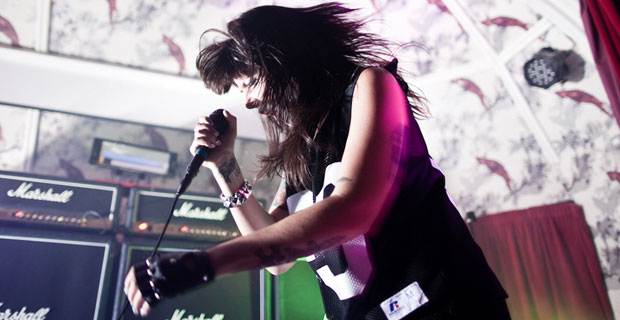 Since releasing their debut, Treats, in May last year, this Brooklyn based duo have gained a reputation for merging raucous guitar driven brash beats with bubblegum pop vocals in a rambunctious live performance. Before emerging tonight the stage is set, with a wall of eight amplifiers and a strobe light perching on the very top, doing little to quell anticipation.
The distortion-fuelled genre fusing rockets many in this sell out crowd will be hoping to hear originate from the frustration and pent-up energy of producer Derek Miller, who  spent six years waiting tables while cooking up these gems in his spare time. Luckily while working, now front-woman Alexis Krauss' mother gave the biggest tip of the day when suggesting her daughter provide the much sought after voice to counteract Miller's strident sounds.
Although merely providing vocals, Krauss' role tonight is much greater than on record. She boldly emerges with one clenched fist raised to the roof, clad in a diamond-studded black leather glove. Onstage she personifies the sound, a basket ball shirt hints to hip hop while leggings with a repeated skull imprint nod towards metal. Her overall punk aesthetic and assured demeanour draw comparisons to their N.E.E.T. label boss, M.I.A.
The adjacent Miller takes to the background, playing a singular guitar which solely represents all instrumentation used on this production heavy album. With eight amps doing most of the work in a pre-recorded fashion, this could have been a diminished spectacle were it not for the semi-sexual screams of Krauss commanding an excited crowd throughout. The climactic current single, Riot Rhythm, does what is says on the tin by transforming the scene into something reminiscent of 8 Mile. 
Once a primary school teacher, her ability to connect with an audience bouncing around like children on a sugar high is unparalleled. Fittingly, Kids, sees her delving into a mosh pit of adoring fans for vocal help and a few well deserved high fives. The Duane Eddy, Peter Gunn referencing riff which blasts A/B Machines into action serves briefly as a reminder that Miller is there too, while his accomplice in an aforementioned baggy basketball shirt pulls shapes Jessie J could well learn from.
What is an inevitably short but sweet set ends with Crown On The Ground, a track which pushes the Spinal Tap metaphor further than the intended 11. Watching as gig goers try to recover from an ear bashing, it is easy to see the eclectic mixture of attendees, highlighting the main reason for Sleigh Bells' near universal acclaim. To some they sound close to The Prodigy's Fat Of The Land, to others they are a less commercially polished Ting Tings, but which way will they go?
Words: Simon Butcher
Photography: Magnus Blikeng
Other Lives: