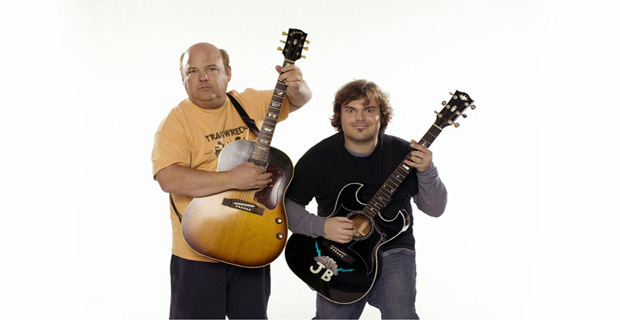 As far as comedy-rock duos go, you don't get much bigger than Tenacious D. Tonight their brief UK tour has brought them to a packed out Manchester Apollo and by the looks of its rabid crowd, they've arrived not a moment too soon. With support act The Bots cramming as many face-melting guitar riffs and seriously frantic drumbeats as humanly possibly into their express set, this Northern rabble are dying to get a little silly.
Part light-hearted stage act part balls-to-the-wall rock show Tenacious D manage to bring an impressively tight live performance mixed with some over the top theatrics. As the duo stroll on stage draped in LED blinking cloaks like two mysterious monks of metal, you immediately know what you've let yourself in for. Soon the hoods are off and, joined by their backing band, the duo rip into their newest hit Rize of the Fenix.
It's clear that the bruises inflicted by 2009's soundtrack flop The Pick of Destiny are still sore but they provide ample fuel for the comedy fire allowing the band to poke fun at themselves. The result is their latest record, Rize of the Fenix, a varied collection of work that stares their past failures straight in the eye before serving it a quick kick to the balls and rocking out. Minutes into The D's set Hollywood duo Jack Black and Kyle Gass are overshadowed by a colossal phoenix, which, in line with the band's tongue-firmly-in-cheek style, looks suspiciously like a giant cock and balls. And so the stage is set for a comedy tour around the band's varied back catalogue.
Newer tracks take precedence at tonight's show with a breathless slew of Fenix material flowing from the stage. The sex mad Low Hanging Fruit, Spanish themed Senorita and dopey rockers Deth Starr and Roadie are all fired out before a performance one of their more straight-faced efforts, Throwdown. However it's the appearance of some older fan-faves that truly send tonight's crowd into overdrive. Following a brief Saxaboom intermission (complete with a Kyle dance off), debut album ditty Kielbasa kicks off a trip down memory lane.
A selection of The Pick of Destiny's more enjoyable tracks are thrown together with renditions of the band's back-to-basics older songs. Whilst all are welcome with open arms by ticket holders, performances of Wonderboy, Beelzeboss and of course Tribute receive extra praise. Despite not offering too much in the way of a newly formatted live show (anyone who's seen Tenacious D before will be more than familiar with the 'Kyle quit the band' routine), its undeniable that Kyle Gass and Jack Black know how show fans a good time. However the real treat of tonight's performance is watching Black and Gass interact with the Mancunian horde at their footsteps. Black conquering the shaky-peak of a speaker system being a definite comedy highlight. While it's unclear how much longevity is left in Tenacious D's mock-rock chops, seeing the band live is an experience that rarely gets old.
Words by Simon Bland.
Be sure to 'Like' us on Facebook and Follow us on Twitter to keep up to date with all the latest Northern music news!