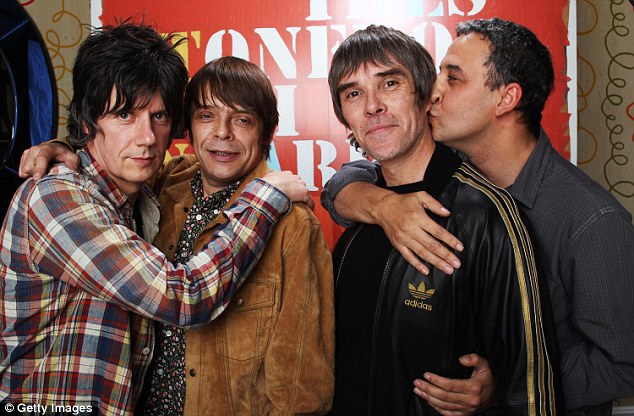 15th June 2016, the day that saw seminal Madchester pop band The Stone Roses kick off their four home dates at the Etihad stadium in their very own special city of Manchester. Waking up that morning, we'd all been automatically been transported back to the era of bucket hats and loose fit jeans. The city was alive with lemon love and citrus sunken sunshine, smiling faces in a sea of Stone Roses T-shirts and Adidas gazelles grooved through the city giving off a surreal buzz. It was happening, and everyone was going. Hearing famous hits like "I Wanna Be Adored" bellowing from groups of fans on their way to Etihad added to the excitement that had been growing in everyone since the announcement of these dates back in November. It had been a long wait and the time had finally come for everyone to travel to the best party of the year.
Blossoms were already warming up the crowd starting an early set, playing cheery hits such as "Charlemagne" and swishing hair in true boy band style. A delight for honourable fans but with a small crowd, the collection of acid house and Madchester tunes that played during bands seemed to rev the crowd up more. Next to take the stage were Chronixx, a reggae act armed with true peace and love spirit. With the crowd absolutely loving the jubilant atmosphere and everyone in high spirits, it soon became the perfect setting for The Stone Roses and in nostalgic style, it seemed like everyone had come together for this memorable string of special dates. Public Enemy were the last support to entertain the masses before the arrival of King Monkey and his gang of three, an odd support to say the least but with front man Ian Brown posing as a huge rap fan it seemed fitting. They played a 45 minute set to a crowd that were disinterested and mocking rather than joining in with the 'hip hop, we don't stop'. Ending with "Harder Than You Think" one of their more popular and infamous tracks, Public Enemy left the crowd vibrantly buzzing for the return of The Stone Roses.
Waiting eagerly in a crowd of almost 50,000 people, the moment had arrived as the night set sail on the chugging bass line of "I Wanna Be Adored", forcing the stadium to erupt into a sea of 'duh duh duh duh duh-duh-duh' and Bez-like dancing. There were no people here to stand and gaze at the band themselves and take in how they play, react or even sound – everyone present was here to dance with eachother and party in the midst of the once again alive Manchester scene. Grooving on to classics such as "Elephant Stone", and "Sally Cinnamon" forced couples everywhere to grab each other and lovingly replace the lyrics with their own partner's name. The band effortlessly captivated their fans, John Squire sheepishly hiding behind a greying (but still growing) head of hair and Mani grinning like the Cheshire Cat gazing out into the stadium in the best white double denim any man has been able to pull off. Their phonomenal ability to create music that will continue to amaze and beguile a constantly changing and ever-growing fanbase is something that music lovers and creators find hard to believe. The Stone Roses continued their set with much loved wonders like "Bye Bye Badman" and "Shoot You Down" full of lemony goodness and true Stone Roses style, a bass line that grooves along with a rollicking drum beat.
The band pull out all the stops with an 11 minute version of "Fools Gold" a track that keeps on resurrecting. It's an avant-garde of the 80's that leaves you sore from frequent faithful dancing, this carried on into newly released track "All For One" – a dedication to Man United and David Beckham who was also in the crowd that night. A few bursts of 'it's shite' by many faithful followers trying to restore 1989 Stone Roses soon turned into hand holding with newly found friends and belting out the lyrics 'if we all join hands we'll make a wall' making it a perfect comeback track for their stadium dates. "Love Spreads" gave off the elation it always had and "She Bangs The Drums" carried the night on perfectly, lifting high-spirits even higher and allowing grey skied Manchester to light up with one the greatest anthems ever.
It seems impossible to criticise The Stone Roses and their revival as they finish off their set with the song that flawlessly defined the band and everything they stand for. "I Am The Ressurection" lead the crowd into an emotional stadium-shaking sing a long as the foursome come to an end and grabbed eachother for a well deserved hug. With freshly released track "Beautiful Thing" notably absent, it's cast out on speakers rattling through the stadium as the band finish and everyone heads home. Accompanied by a kaleidoscope of fireworks, fans still party on even without the band present, ending the night with damp clothes but no dampened spirits. The Stone Roses had united everyone again.
Words by Emma Davidson (@_EmmaDavidsonn).
Keep up to date on all the latest Northern entertainment news by following us on Twitter, Facebook and Google+.