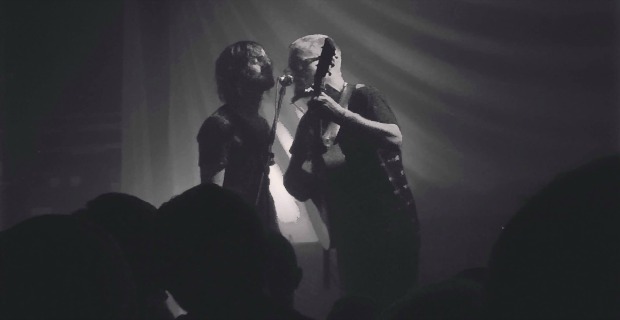 With no airs and fewer graces, San Francisco's Two Gallants casually crept onto Manchester's Gorilla stage in matching dye-stained t-shirts and jarring non-plussed faces. Backed by an impressive projected red velvet like sheath recalling The Roadhouse scene in Twin Peaks, the moody duo slowly tinkered with their respective instruments, completing various tuneups and minor adjustments before drummer Tyson Vogel kicked into the rapturous rolling Tom pattern that introduced set opener, "Some Trouble".
Through minor sound issues, guitarist Adam Stephens' droning chordal strums did not manage to fully construe the kind of dynamics heard on record, yet the tense and often sporadic energy created between the two-piece from the offset managed to replace any momentary noise deficiencies. Not afraid to push his voice to the very cracks at the spectrum of his range, any lapses of key can be easily put down to heightened passion as evidenced by follow-up, "My Love Won't Wait" which sees Stephens red-faced and frantic stretching his vocals to almost breaking point as he strives to reach over Vogel's spastic drumming and his own booming guitar tones.
As the night wore on, the drunken shouts of obvious fan favourite, "Drive My Car" left a noticeable grimace on Stephens' face and the lairy cries began to wear on the spectators who were content to follow the band's personally chosen journey. It's scenes like these that show the glaring troubles with a lack of live music etiquette that many fans are encumbered with in the Manchester music scene – seemingly unaware of how to act and behave when watching a band or artist perform live, drunken laments are hurled toward the performer making them ill at ease with their new surroundings leaving their performance faltering to a certain degree. Although this could be said to be considered as a sign of affection, to a traveling musician who has a carefully rehearsed and prepared set it more often than not eludes an obnoxious hostility. Yet after years of playing together and after literally fighting the law at a gig a few years back, Two Gallants have a natural premise of disregarding the sardonic throng of cathartic listeners and have galvanised their live sound, leaving them to appear largely un-phased by the rowdy requests, with the subtle exception of the furred brow of guitarist Stephens.
Still not all of the night was affected by the negative crowd reactions, as the duo flew through tracks old and new complete with a few off kilter covers to boot. With new tracks, "Incidental" and "We Are Undone" flowing into old favourites like "Steady Rollin'" and "Two Days Short Tomorrow," 2GS trudged through their extensive back catalogue managing to meld the music of their youthful fury with that of their current more realised and cultivated output. New track "My Man Go" poses a pensive reminder of their reverberated country lead roots, with the saturated fingerpicked sliding chord pattern and spacious steady kick-snare combination allowing a brief interlude of calm before the wailing scream of Stephens, "Well I…" pounces into, "Las Cruces Jail" at full throttle and the dazed audience are awoken from their momentary trance.
A surprising inclusion of the set included a cover of the old Moses Pratt recording, "Long Summer Day" with its highly anti-racial political elements cutting a stark knife into the nights proceedings. Its comic-tinged refrain sparked an energetic sing-along which with its brooding and despair ridden verses proved a slightly odd pairing between band and audience. Set closer, "Broken Eyes" proved the only piece to the solitary encore and saw Vogel, tambourine in hand join Stephens around a lone microphone. With an acoustic at his fingertips and a harmonica to his lips, the two-piece showcased the apex to their tender side, echelons away from the rapture and noise the past hour or so had inhabited. The delicately sweet song sought to draw the audience together and as the steady pulse and rushes crashed from the muted tambourine slaps and Stephens picked the final refrain on his road-worn guitar, the crowd applauded heartily before wandering buzzed and rowdy into the cold Manchester February air, freewheelin' away into another loaded bar.
Keep up to date on all the latest Northern entertainment news by following us on Twitter, Facebook and Google+.