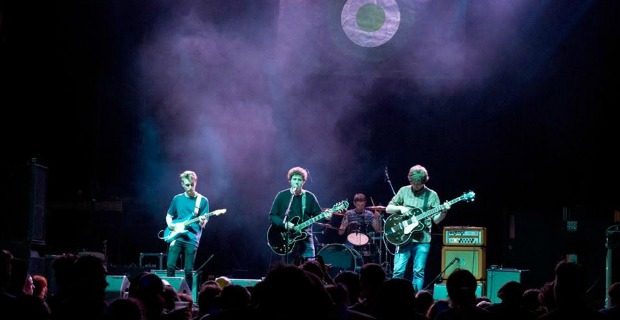 Just a year on from their maiden gig at Bolton's Blind Tiger, Cleargreen have made a name for themselves by packing out some of Manchester's best-loved venues with their fervent fan base, and with a new EP and bigger gigs in the pipeline, there are still better things to come from the band. Most recently headlining Manchester Academy 3, the four-piece from Kearsley in Bolton have quickly found their place in their neighbouring city's local music scene, but they insist that this is just the start.
"At the moment it's about proving that we can shift tickets, get a good following and create a good atmosphere" says lead guitarist Jack Blair, "and then we can go from there." The band evolved from the previously-monikered Cleargreen Cult, with singer and guitarist Ali Staley providing the expertly-crafted but rough-edged songs that would quickly take them to top billing in venues usually reserved for the country's more established acts. The rise came alongside a renewed focus when 20-year-old guitarist Jack Blair joined who, in a Weller-like move, roped in his Dad to manage the band and capitalise on the opportunities that their evolving sound – collectively informed by the usual Manchester legends but with a verve all of their own – afforded them.
"He's got us all on Twitter now and everything," says newest member and bassist Liam McIver with a hint of despondency, "but it all helps – it's all about getting the band noticed by as many people as possible.  Small steps…" But small steps don't seem to be what Cleargreen do. As soon as bassist Liam joined in mid-August, he had to learn the songs in time for their headline show at Chorlton's Mono that same month, and by the next big gig at Academy 3 he'd contributed a Charlatans-esque new song – for which guitarist Jack had to hastily learn keyboards for.
"It went down great at the gig," admits Jack, "so we'll have to stick it in the set now – wherever the stage is big enough to get a keyboard on as well anyway…" The song, "Hollins Groove", also represents a more diplomatic writing process for the band, who are completed by drummer, and old school friend of Ali and Jack, Tyrone Heeley. Bassist Liam said, "With Hollin's Groove, I brought it in and showed (main songwriter) Ali, and he liked it so we put it straight in the set.But the original is a lot different to how it is now – the band all had a lot of influence on it.  Plus, I'm the sort of guy who doesn't really write a chorus, or a second verse – so these guys made sure it got finished!"
The addition of the Darwen-based newest member has not only changed the band dynamic, but also brought an expanded following for which Cleargreen gigs are big events. "People in Darwen see a Manchester night out as like going to Benidorm for a week," reckons Liam, "so it were a big deal for them to get a coach down!  Then, the idea is get them all in shirts and get them as rowdy as possible." They played a free show at Darwen's Sunbird Records in November as a thank you to these fans, which may well be one of the most intimate gigs their fans will get to witness for a while. "On December 17 we've got a show with a London-based promotion called This Feeling (at Night & Day, Manchester)", enthused guitarist Jack.  "They've helped the likes of Catfish and the Bottlemen and Blossoms get on the map, so that should be good and hopefully push us forward."
A new EP is mooted for the New Year, alongside shows further afield than their northern roots.  With the fast-track rise so far, don't be surprised if their homecomings are increasingly rowdy affairs, as Cleargreen are going nowhere but up.
Songwriter Ali Staley talks us through some key Cleargreen tracks:
"Electric Skies" –  "Pretty much a straightforward love song.  You see something special in the person not necessarily seen by everyone else.  You'll hold on, you'll wait around, because they're worth waiting for.  Our most 'sing along' tune when played live."
"Cozener" – "The most 'radio friendly' tune, and I personally think it's the best tune I've written – within 10 minutes the song was there. "Cozen" is an old English word meaning to cheat or deceive someone or something – it turned out quite prophetic.  Always good fun to play live."
"Stargazed" – "I wrote this tune on holiday in the south of France with Jack. It's about where all of this comes from – the planet/solar system, mankind itself, and how you've got to make the most of it all while you're here – you get out what you put into life. This is our newest tune. People seem to be really into it live – it's got a nice melodic groove and some strong guitar tones."
Words and interview by Tom Welsh (@TomWelsh109).
Keep up to date on all the latest Northern entertainment news by following us on Twitter, Facebook and Google+.