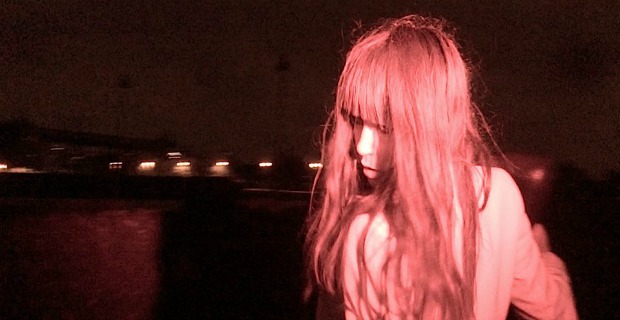 Stockport's Natalie Findlay has been on the rise for the past couple of years, taking in a Glastonbury appearance and support slots with Jake Bugg along the way, and new track "Electric Bones" shows her star is still rising with this ever more assured release.
With an intro bringing to mind a world where Arctic Monkeys use Screamadelica instead of Dr Dre as a touchstone, Findlay announces herself on "Electric Bones" brimming with attitude and armed with razor-sharp delivery and off-kilter melodies.  Her assertion that she's 'just a girl with a microphone' belies a chorus that looks to make her so much more – if ever a poster-girl were needed for a new jilted generation then look no further.
It's a thrilling introduction if this is her breakthrough, though she's been courting attention with similarly arresting songs and visuals, with "Greasy Love"'s RUFFMERCY-directed video recalling MIA as much as Findlay's own flowing and distorted vocals do. With a hint of The Yeah Yeah Yeahs' Karen O thrown into the mix, "Greasy Love" is a ready-made crossover hit, as much at home on BBC playlists as in Manchester's clubs.  A rumbling and breathless verse culminates in a defiant nod to the Animals' "Please Don't Let Me Be Misunderstood", setting up a bridge of suggestive scenes and all set to a backdrop of Tarantino-esque cool. The resulting chorus obligingly builds to the rafters, soon giving way to a pulsing bass which only serves to get you ready for round 2, and you will want more.
Previous offerings suggest this is just more of the same from the 'Manc living in London,' as her twitter describes, although her capital city dwelling does seem to have brought a more-polished and club-ready sound than showcased on previous EP Off & On.  Already featured on a BMW commercial, the title track of the EP begins by recalling the filmic sounds of Lana Del Rey, albeit stripped of the Americana and turned into a Skins-eye view of modern British youth.  It then turns into a different beast entirely, with the momentum-gathering mantra of 'off and on' giving way to Blondie-referencing riffs and barked lyrics, all the while somehow still managing to retain her sultry edge. Flip side "Fever" suggests she always had an ear for a killer chorus, and it bristles with as much attitude as her piers could ever muster.
With all this going for her it will be of little surprise if she ends the year gracing the front covers of our music press and, in short, she's definitely one to watch.
Find out more about Findlay on her website, Facebook, Soundcloud and Twitter pages.

Words by Tom Welsh (@TomWelsh109).
Keep up to date on all the latest Northern entertainment news by following us on Twitter, Facebook and Google+.