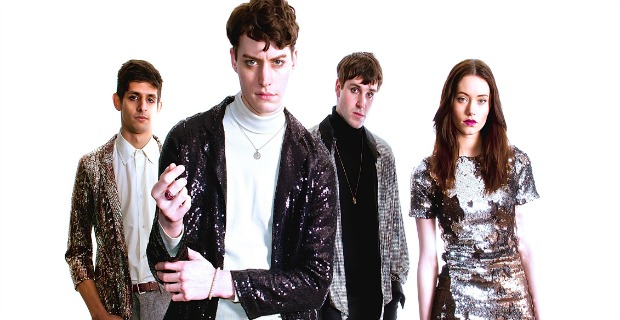 Manchester band Girl Friend have had a quick rise through the ranks since their formation only last year, and with their slick radio-friendly sound it's not hard to hear why.
Bursting onto the scene with the slight Joy Division-vibes of early release "Perfume", the band showcased a commodity that is all too rare nowadays – a singer who actually wants to be a pop star. He's got the looks, the voice, and the Brett Anderson-esque moves, and in the slick video to last year's single "Stop", he's even got that smouldering, staring-into-the-distance look down to a tee.
'Slick' seems to be the adjective with which they will increasingly be labelled, with the band having their pop sensibilities nailed in sound and look, with recent release "Monte Carlo" seemingly calling upon all the rule books on how to make a hit. That these rules may be rooted in the 80s model is no criticism, it was after all a time when pop had some decent bands taking care of it, when it knew where it stood and what it was best at – being catchy, danceable, and throwing a bit of sex into the mix for good measure.
Last summer's debut EP showcased a slightly more moody side to the band, with opening track "Comforting Strangers" bringing to mind both The Cure's "Lullaby" and Kate Bush's "Running Up That Hill" in overall vibe, certainly not the worst place to start. The falsetto flourishes add a dreamlike quality to the sound and, in aforementioned lead track Perfume, even add a breathy suggestiveness to the often lustful lyrics.
The newer material brings a more polished sheen to proceedings, with more incidental electronics peppering the dancefloor-ready sound of songs like "Monte Carlo" and their latest offering "You Lead The Way". The latter's hook of "all I wanna to do is give in to what you want to" brings a romanticism and longing that makes it a perfect end-of-the-night tune, also showing a depth to their sound and character that occasionally threatens to get lost in the midst of the sometimes disco-by-numbers production.
With parts of the media becoming increasingly enamoured with the group (they even made The Guardian's Band of the Week feature last month), radio plays are sure to become more widespread and ,with the distinct lack of real pop stars nowadays, it wouldn't be a surprise if the papers sniffed out a worthy commodity. You can catch them at Manchester's Ruby Lounge on 11th April before that happens.
Find out more about Girl Friend here.
Keep up to date on all the latest Northern entertainment news by following us on Twitter, Facebook and Google+.