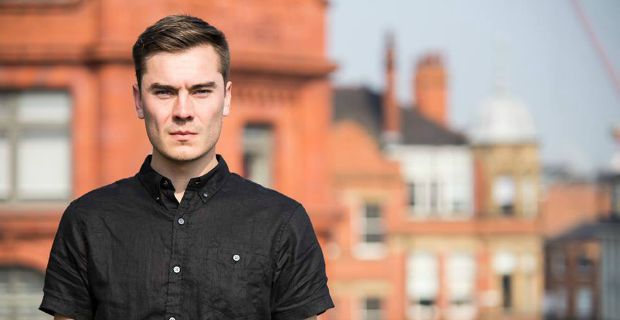 Just as we thought we'd heard it all from Manchester, the land of massive bands and even bigger attitudes, we stumble across little gems here and there. In such a ferociously competitive industry it's difficult enough to be spotted, alone in the much adored music capital of the United Kingdom. Saying that, how could we possibly have missed Liam McClair, the 24 year old singer songwriter with enough charm and sincerity to melt even the most cynical of hearts?
Liam McClair isn't your typical Northern glory man with Gallagher-esque swagger and the cocky attitude to match. No – he's a fresh, soulful melting pot of honest, relatable lyrics and intertwined melodies. His music radiates purity and a refreshing individuality that doesn't just grow on trees.
McClair's tidal wave of popularity was partially brought on by his relentless gigging in and around Liverpool, along with the continued support from Echo and the Bunnymen frontman Ian McCulloch. Liam McClair has had not one, but five support slots with the Liverpudlian band, as well as indie pop newbies Circa Waves. Advocates of McClair include Newton Faulkner, BBC Introducing, 6Music and XFM.
With two EPs under his belt, respectively released in 2013 and 2014, teamed with the impressive support slots, it's no surprise that McClair has worked solemnly hard for his newfound success. With a background in musical training from a young age and a primitive guitar expertise, it's not difficult to imagine the professionalism that Liam McClair brings to the table.
"Honey", released in 2014 on the EP of the same title, is a modest love song with his signature smooth vocals and a poignant harmonica and string section. The other three tracks on the EP follow the same sort of intensely romantic, yet easy going pattern. Don't expect any pretentious waffle from Liam McClair – only wholehearted lyrics, relaxing melodies and a grown up approach to songs about love and heartbreak.
Catch Liam McClair at the launch party for his debut EP Honest at Gullivers in Manchester on 25th September.
Words by Samantha Ewen (@FakeTalesofSam).
Keep up to date on all the latest Northern entertainment news by following us on Twitter, Facebook and Google+.