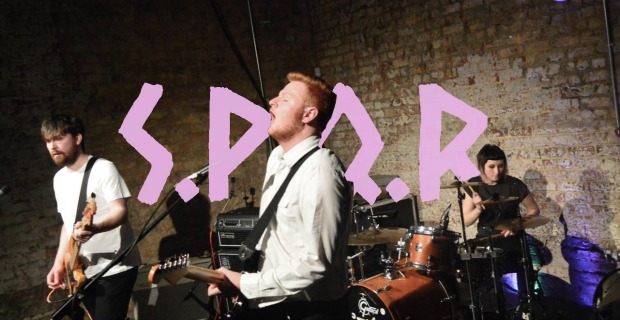 As if the city of Liverpool doesn't have enough musical talent to boast about, it's time to introduce SPQR, Merseyside's answer to Queens of the Stone Age and an obsidian in the rough.
In relation to prestigious rock legends like QOTSA, SPQR are practically foetal, with only two official tracks under their belt thus far. This doesn't directly equate to amateurism though, as this band have a professional, sexy sheen about their music and a charismatic, likeable personality in abundance. In their own words, SPQR perform music that "gets you doing gurning faces from hard slabs of loudness", whatever that means. The alt rock trio have been bringing the noise with their tenacious, pedal-happy guitar solos and lead singer Peter Harrison's bellow since early 2015. They were recently the first to sign to Elevant Music LTD and are currently dotting themselves around the UK on a small but steady tour.
The band's bluesy, bassy goodness is the school bully of musical affairs. Despite "Plink" and "Talking to the Dead" being their only official releases, they both unanimously hit that sweet spot of nails-on-blackboard rock 'n' roll. It is difficult to create a perfect melting pot of rock, soul and blues without becoming some sort of more pretentious, less talented Robert Plant. However, SPQR somehow manage to transport you in an ascending haze of piercing electric guitar solos and grungy basslines. Both tracks are dramatic – theatrical even.
"Talking to the Dead" offers highs of Harrison's dominant wail, contrasting with unnerving whispers. Tension builds as the tempo jumps around and you're unsure of what's coming next. "Plink" is its calmer but equally gripping counterpart, offering eerie guitars that stay true to its title. Don't be fooled entirely by tales of dirty, dingy rock just yet though – "Plink" shows a vulnerability that only makes SPQR more likeable. "Don't look so frightened, girl, I only asked you your name" quivers Harrison, proving that rock can still be relatable in its sultriness.
So, it's decided: listening to SPQR is like becoming mates with Satan and having him give you a back rub. You're taken down their accomplished passage, even in the short seven-ish minutes worth of tracks they've released. Despite their music being punctuated with attitude and a refreshing original sound, there's an innate catchiness and you'll find yourself trying to mimic the thespian wail in the shower. And if you're thinking about them in the shower, they must be doing something right.
Words and interview by Samantha Ewen (@FakeTalesofSam).
Keep up to date on all the latest Northern entertainment news by following us on Twitter, Facebook and Google+.