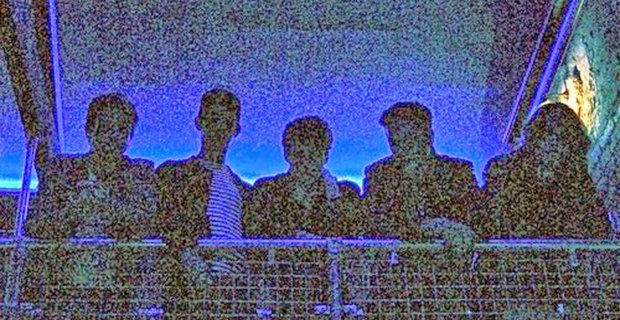 On Thursday, 8th May Kraak Gallery brings two of Manchester's up and coming indie acts, Girl Friend and BÊTE, to the venue. Support band Bete is composed of a quartet of Manchester Metropolitan and Salford University students, two of which, Jonah Baldwin and James Crosley, have known each other since they were fourteen. Having all spent time playing previously in other bands, the group eventually decided to take their music in a new direction, and as a current unit have been playing together for just over a year. In that time, they've generated a self-titled EP, and are in the process of recording a new EP planned to be dropped sometime this summer. BÊTE's complex sound is driven by lead vocalist Gabe Cavanagh, whose vocals draw references to Kings of Leon, alongside the band's strong and cohesive instrumentals. In regards to their forthcoming EP, Baldwin advises listeners to expect stronger electronic influences, adding to the growing and pervasive trend of synth-infused indie in the current music scene.
BÊTE has played a variety of gigs in and around the Northern Quarter of Manchester, including a prior support slot at Kraak for the much hyped Birmingham-based Jaws. The band retains a strong sense of individuality and confidence in creating music and aesthetics true to their personal interests and ideologies. Outside of their live shows, BÊTE retain this sense, claiming not be influenced by any particular band or any desire for self promotion, allowing their music to speak for itself. Their online presence is surrounded by an array of eclectic and artistic images posted initially "as a form of recordkeeping", but Bete claim in terms of their approach to such PR that "we only post and record what we like, and if you like it too, you'll probably like us".
Headlining band Girl Friend, which is compromised of Salford University graduates, have recently debuted initial single "Perfume" off their soon to be released EP Everyone Wants to Be Wanted, courtesy of London-based You Records, and are soon to publicize a second single and music video. "Perfume", accompanied by the falsetto of vocalist Amory Neish-Melling, exudes an edginess which accompanies background drums and synth, and the haunting melodies of both bands will be certain to make for a well spent Thursday evening. The gig is followed by a DJ set and afterparty at the venue.
Words by Ruby Hoffman (@RubybHoffman).
"Be sure to 'Like' us on Facebook and Follow us on Twitter to keep up to date with all the latest Northern music news!"