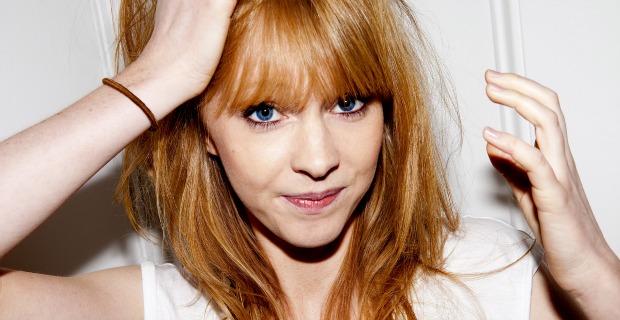 Lucy Rose might look young and sweet and innocent, but there's a sense of real grit and resolve at her core. Armed with an acoustic guitar and a set of simple, elegant songs, the Warwickshire songstress is touring her way around the country in March – including a Manchester Gorilla set on the 24th.
Lucy Rose put out her debut album Like I Used To in 2012, featuring singles likes the eerie "Shiver", a quiet and melancholic lament to faded love, or the more upbeat and catchy "Bikes", led by a twangy guitar riff and a sense of danger and excitement. "Lines" is a less stripped back track, pulling in drums and percussive beats one top of simple guitar. The quirky beat changes erratically, pushing the tempo of the song up until a slowed down bridge kicks in at lifts things to a cinematic level – only for the heavy drum rhythm (a bit like something of a recent Arctic Monkey's track) to kick back in right before the song ends.
It's this kind of playful and adventurous song writing that makes Lucy Rose stand out. If most singer-songwriters tried to experiment in their music that way it would sounds forced, but Rose pulls it off with an ease and naturalness that appears entirely effortless. Even her more polished songs have a sense of real rawness underneath the sweet breathy tone of her vocals. Her newest track "Cover Up" plays around with those vocal, speeding them up slightly and electronically producing the song more. With that in mind, Rose's second album may have a less acoustic and darker touch than her first.
With said album upcoming early this year it's safe to say a few as yet unreleased tracks will be showcased at her Manchester gig – a great chance to check out what the next direction might be for this exciting young artist. Lucy Rose has been gigging across Britain and Europe, including an appearance at Glastonbury, pretty much non-stop since she leapt headfirst into the music industry, and so she carries a confidence in her live performing that means you can look forward to an assured and relaxed but playful show from a singer who's definitely got her name on the 'ones to watch' list.
Support on the night will be from Sheffield's Half Earth, a solo singer-songwriter with an ambient style of semi-acoustic guitar music. Doors open at 7.30 and tickets are £14. Buy them here.
Words by Conori Blue (@ConoriBlue).
Keep up to date on all the latest Northern entertainment news by following us on Twitter, Facebook and Google+.