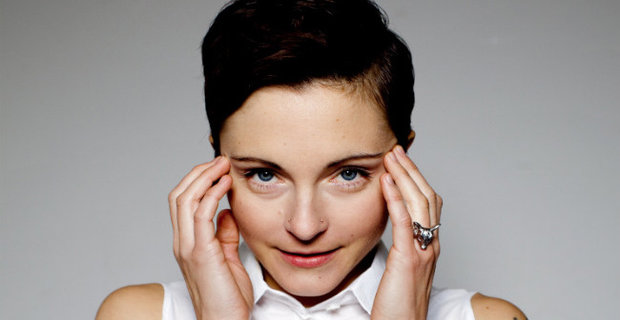 Polica, a three year old American synthpop group composed of Chris Bierden, Drew Christopherson, and Ben Ivascu and fronted by the vocals of Channy Leaneagh, already have two albums to their name: 2012's 'Give You the Ghost' and 2013's feminist-referential 'Shulamith'. Their latest EP, entitled 'Raw Exit', has been announced to be available digitally worldwide 10th June, and has been billed as the 'postscript' to 'Shulamith'.
Composed of four tracks, 'Baby Blue', 'Great Regret', title track 'Raw Exit' and Lesley Gore cover 'You Don't Own Me', the EP holds true to Poliça's mesmerizing and edgy pop musings, while retaining less of the shimmery synth of 'Shulamith' and more pulsating rhythmic sections. Leaneagh continues on her often dark contemplation of the world ('who's ready to die alone', she asks in 'Raw Exit'), and her breathy yet soulful vocal tendencies mesh well with the instrumentals of the band.
The fast paced and complexly layered track list has an emphasis on the sharp and deliberate punch of synth, drums and vocal tracking, which don't always effortlessly digest, but demand attention and are worth a focused listen (or three). Polica seem to have dropped most of their afterparty vibes reminiscent of the Weeknd in favor of a grittier and faster moving new cut, which could easily be found playing in nightclubs on the edge of morning to a heated crowd of revelers.
Leaneagh has referenced final cover track 'You Don't Own Me', written by John Madara and David White, on her blog as 'one of the most lyrically perfect songs I've ever heard', which sets the bar perhaps a bit high but also seems to be the song most representative of Polica's new music, within which Leaneagh demands 'don't try to change me in any way | don't tie me down | don't tell me what to say'. In this way she aptly orchestrates who Polica are: a band which continue to structure their own brand of sound within a still fairly indefinable genre, doing what they do best while continuing to challenge preconceived attitudes about music and love.
Polica embarks on an extensive tour of the United States and Europe this summer, culminating at a date at Belgrave Music Hall in Leeds on 16th of August. Tickets can be purchased for just under fifteen quid, and guarantee an atmospheric and transformative evening for gig-goers.

Words by Ruby Hoffman (@RubybHoffman).
Be sure to 'Like' us on Facebook and Follow us on Twitter to keep up to date with all the latest Northern music news!