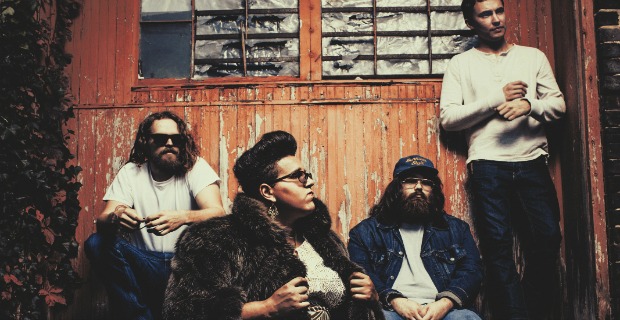 The past 3 years have been hectic for American four-piece Alabama Shakes. Following the release of their irresistible debut LP Boys & Girls the band have gigged in front of millions on Saturday Night Live and toured the US, Europe and Australia. They were a star turn on the UK festival season in 2012 and then played at the Grammys in 2013, where they were nominated in three categories. Now after releasing their follow up LP Sound & Colour at the end of last month, Alabama Shakes are set to showcase their new album on the road.
Alabama Shakes epitomize what a rock band should be in this era, mostly for what they lack. Confidence oozes out of every note that pours from singer Brittany Howard's mouth, but it doesn't translate to a big-headed ego. And most importantly, they manage to channel a spectrum of musical influences, from Southern soul to glam-rock, without re-treading the well-worn paths that others are content to glide on.
With Sound & Colour opening with the dulcet tones of an organ and hints of falsetto on the title track, you get the sense that Howard is just warming up, working through her impressive range and flexing her muscles, so to speak. Her boisterous voice is as present as ever, but noticeably muted at times. It seems like an odd choice to make to bury something so precious under layers of effects, but it proves they needn't rely on Howard's wild force to succeed. Sound & Colour suggests that Alabama Shakes aren't even comfortable following in their own footsteps, as successful as they were. This time around guitarist Heath Fogg, bassist Zac Cockerell and drummer Steve Johnson let the world know they're more than just a backing band for a powerful set of pipes.
The defiant first single "Don't Wanna Fight" opens with a primal scream so raw you can practically feel the muscles in Howard's neck straining to unleash it. But the fat bass lines and taut riffs vibrate with self-assuredness as well, a sign that her bandmates are making their presence known alongside her, supplicating with flourishes of vibraphone, keys and string.
Alabama Shakes have been pretty much non-stop since leaping into the music industry and so carry such a confidence in their live performance and such excellent stage presence that means as a new or an old fan you can look forward to an impressive and worthwhile show. Gone are the days where Alabama Shakes played covers in old folk's homes, if you haven't already we highly recommend you get on board sooner rather than later. A must see for any live music enthusiast the band are only going to get bigger and better.
Keep up to date on all the latest Northern entertainment news by following us on Twitter, Facebook and Google+.