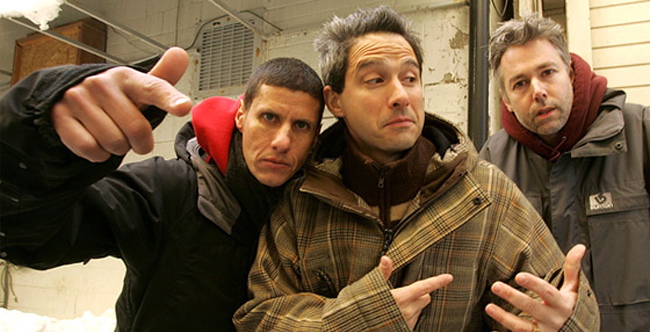 By law, all reviews of new Beastie Boys albums must make reference to their age at the first available opportunity, and this one is no exception. MCA, Ad-Rock and Mike D are all in their mid 40s and the band originally formed, with a different line up, in 1979, so if you duke the stats a little bit it wouldn't be untrue to say that the 2010s will be the fifth decade in which the Beastie Boys have made music together. While their early years were spent under the radar making punk music, the current three-piece incarnation of the New York band have still been rapping for two years longer than I've been alive. In that time they've gone from the frat-boy jokers who made the biggest selling rap album of the 1980s, to the under-appreciated Dust Brothers-produced pioneers who made the hugely influential Paul's Boutique, back to chart dominance with their genre defying '90s output. Their last album and their only album of the noughties (apart from instrumental record The Mix Up) was 2004's To The 5 Boroughs, a collection of  straightforward samples-and-rhymes rap songs paying homage to their home city and the early hip hop it produced. It was a back to basics approach with an eye fixed firmly on the past and begged the question- once you've returned to your roots, where is there left to go?
Hot Sauce Committee Part 2, comprised of songs originally intended to be released in September 2009 as Hot Sauce Committee Part 1 before MCA was diagnosed with throat cancer and the album was delayed, sees the Beasties mix their trademark playful rhymes with sampling and live instrumentation, with Ad-Rock on guitar, MCA on bass and Mike D on drums. It's a move away from the simpler hip hop of their last album and towards something closer to the musical adventurousness of late 90s Beasties. It's also the most fun, unpredictable and colourful album released so far this year.
Recent single Make Some Noise kicks things off, a catchy comeback song with an old school vibe and all the trademark Beastie Boys humour and obscure references. With a chorus directly referencing their first big hit and lyrics that touch on the band's age, the song serves to announce the Beasties return, but it's on second track Nonstop Disco Powerpack that things start to get really interesting and the weird trip that is this album kicks in.  At Nonstop Disco Powerpack's core, a slow paced old school rap song steadily flows along backed by bass and drums, but as the track progresses the production bends and morphs the song in different directions, echoing and stretching the vocals into something that sounds like it came from outer space. It's typical of an album in which the Beasties don't seek to disassociate themselves from their own intimidating back catalogue, but rather to acknowledge and use their history while rising to the challenge of also doing something new.
From that point on the album rarely lets up. Distorted vocals and guitars bounce off samples and give way to a heavy dance breakdown on OK and that segues into the Beasties' best attempt to blow every speaker in the world on the intro to Too Many Rappers, featuring Nas. Say It reminds the listener just how hard the Beastie Boys can rock when they're so inclined, and later in the album so does stand out track Lee Majors Come Again. They also also try their hand at reggae on Don't Play No Game That I Can't Win, mellow dub on Multilateral Nuclear Disarmament, and get downright goofy on Funky Donkey. Tracks flow into each other and by the time the album ends you don't know what just hit you, you're just glad it did.
So, where can you go once you've returned to your roots? With Hot Sauce Committee Part 2, the Beastie Boys have answered that question with a middle finger raised high in the air and a resounding "Wherever the fuck we want."
Beastie Boys' star-studded short Fight For Your Right (Revisited) features pretty much every funny person in Hollywood.  Not seen it yet?  Check it out below.
Words by Martin Smith