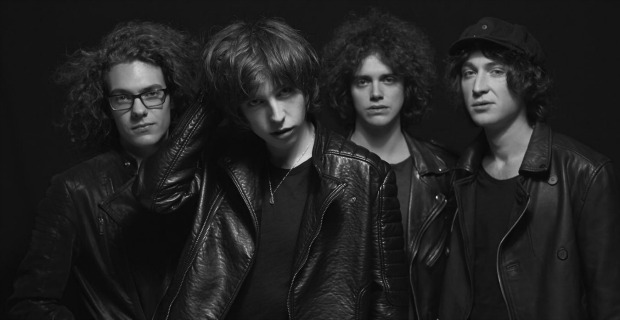 Hailing from Llandudno, guitar fiends Catfish and the Bottlemen started earning notoriety gigging in car parks outside other bands' shows. They formed in 2007 as mere adolescents and have slowly but surely created controversial waves amongst the sweaty plethora of indie rock. There's an infinite, no-holds-barred attitude reappearing, right out of 2006. With their highly anticipated second album having recently been released, Catfish and the Bottlemen can seemingly do no wrong. Move over world, The Ride is here.
The album begins with "7", an anthemic tale of left-behind love. This track was the second single to be released, which is probably down to its festival-ready chorus and recognisable Northern purr. Cocky, boy-about-town lead singer Van McCann bears his soul with the chorus: 'I've tried to ignore it every time you phone, but I never come close'.
The concept of a difficult second album doesn't resonate here, as there's clear growth since 2014's debut album The Balcony. The tracks are still lad-tastic, but present evidence of a step up from the prestigious first record. The charm that emanates from Catfish and the Bottlemen still kisses you right on the mouth, but with a more mature approach.
"Twice" and "Soundcheck" are practically antiques as they were amongst the first singles, and were probably written with the Reading and Leeds Main Stage in mind. Just when we thought we'd had our fill of emphatic choruses, lead guitarist Johnny Bond – or as he's most affectionately nicknamed, Bondy – hitches it up a notch with unshackled lead guitar solos.
Every beat and strum of a guitar has been cleverly thought through in the experimental process. For "Glasgow" and "Heathrow", the band shed their leather-look Lad Bible personas and laid bare, much like in The Balcony's "Hourglass". The former is a sincere, honeyed ode to someone who makes Van 'do shit that he's never done', which sounds a lot more poetic when sung, promise. The transparent love songs abandon all previous machismo that's been roused by singing about, er, getting undressed.
There's an undoubtable Oasis influence here – consequentially, "Oxygen" could get lost amongst the other, more original-sounding songs. It unfortunately doesn't slot in with the other tales of angst vs. growth or with the identity that they've painstakingly built for themselves.
The Ride is The Balcony's more mature, irresistible older brother. It allows for moody basslines and Van McCann's occasional erotic purr. Perhaps he's not the gobby post-teen that he makes himself out to be, as The Ride flirts in a different way to past releases. The vulnerability of certain lyrics clashing with the sexuality of others and that powerful, magnetic rock sound makes for a melting-pot of all things fresh.
The fact of the matter is, Catfish and the Bottlemen have become impossible to ignore. But why would anyone want to? It's okay to give in to good old-fashioned indie rock that has been reinvented for era-appropriateness. It's an album lacking fear, a coming of age – they've still got a way to go but it's a triumphant release with staying-power. Catfish and the Bottlemen are a staple food.
Words and interview by Samantha Ewen (@FakeTalesofSam).
Keep up to date on all the latest Northern entertainment news by following us on Twitter, Facebook and Google+.