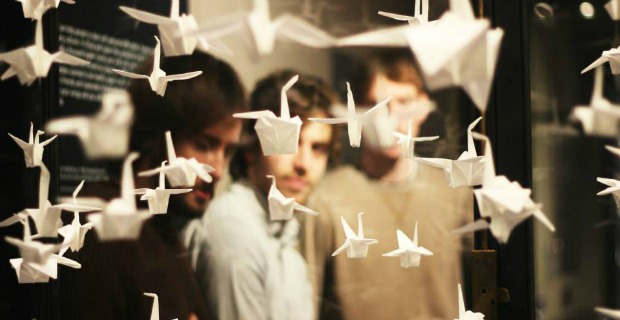 Hailing from Withington, David Rowe, Ed Troup and Liam Stewart together comprise Manchester-based three piece Plank, who have just released their second full-length album Hivemind, the follow-up to year old debut Animalism via label Akoustik Anarkhy.  Fans of Animalism can expect more of the band's signature gritty instrumentals, while Hivemind further explores an idea of the natural world in all its convoluted states.
From its initial synthetic beats, the album propels itself into third track and aptly titled 'Dark Web', which mixes a softer, gentler opening that segues into a churning guitar-driven melody, entailing the rough yet deliberate edge that remains omnipresent on Hivemind.  Although Plank's music exudes an ubiquitous dark quality, there is also a managed punctuation of shimmering lightness.  By the time the listener reaches halfway point 'Metamorphosis', the instrumentals themselves nearly reach the height of vocalized song, with the shake of tambourine and strings seeming to signify a resounding dawn and awakening.  However, the theatrical deliverance of Plank ensures that no peak is ever quite the end, and sound is constantly steered in new directions.
The utilization of percussion as less of an aggressive, driving force and more of an unwavering set of hands, propelling the listener forward and into the unknown, is commendable.  The ingenious nature of Plank in omitting such expected noise is prevalent as actual hints of a human voice, never quite coming to the forefront, are found amongst the latter tracks, without necessitating their strength for guidance.  'Waterboatman' demonstrates the full emergence of the band in creating an original, raw sound, as a recreated storm is built and water is purely expressed.  'Crickets' sees these instrumentals simmer, then regroup, and the band's careful control always seems to be one step away from spiraling into something fantastical.
Plank deliver in the way that their music continues to build in a natural and unforced progression, engaging the listener in a fully enveloping experience that leaves them- there's no way else to say it- lost for words.
Catch Plank during festival season at Cloudspotting, Beacons, Green Man, and Festival No 6, as well as this autumn's Liverpool Psych Fest.
Words by Ruby Hoffman (@RubybHoffman)
Be sure to 'Like' us on Facebook and Follow us on Twitter to keep up to date with all the latest Northern music news!