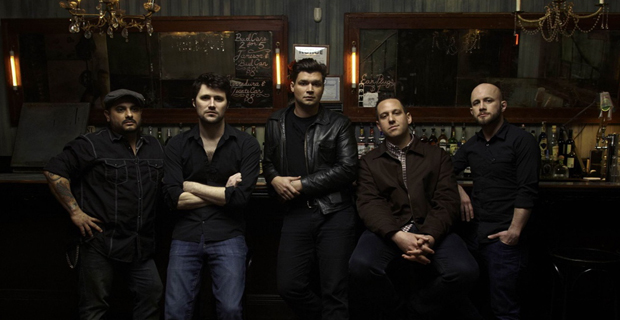 In 2002 Taking Back Sunday's debut-through-gritted-teeth Tell All Your Friends quickly made them emo royalty amongst tormented teens. A mic-swinging, angst-ridden powerhouse with nothing to prove, the band rode the emo fad as far as it would go. Nine years, three albums and a few-line up changes later and things are a little different. The emo craze is a distant memory – the fringes have been trimmed and the guyliner banished, but Taking Back Sunday remains.
After 2009's New Again left the band struggling to stay afloat, frontman Adam Lazzara, guitarist Eddie Reyes and drummer Mark O'Connell enlisted the help of ex-TBS players bassist Shaun Cooper and guitar/vocalist John Nolan.  Thus, almost a decade later, Taking Back Sunday is back where it started. Back to the classic line up which produced that blistering debut, but this time they have everything to prove.
The band's fifth and latest studio album desperately wants to be a clean slate.  There's no messing. It's self-titled so fans know they mean business and with Louder Now producer Eric Valentine back at the helm expectations were high.
Opening track and nod to the band's studio re-birthplace El Paso starts things off with a throaty scream, recapturing the spark of excitement that was once their calling card. Faith (When I Let You Down) keeps up the pace with its jingly guitars and defiant chorus, a message from the band pleading their fans not to give up on them just yet. Their faith is soon rewarded; three tracks in and the newly reformed band strike gold. Best Places to Be A Mom is enough to forgive them for all of New Again's crimes.  Fast paced, catchy, complex – it's that sound Taking Back Sunday lost a few years ago and have been desperately searching for ever since.
Unfortunately it's a fleeting magic that never quite resurfaces.  While Nolan's returning vocals spoon with Lazzara's like no time has passed, the body of the record struggles to compete with its oh-so arresting opening. That said, Money (Let It Go) recaptures the frantic energy of 2006's Louder Now and closing tracks You Got Me and the tender Call Me In The Morning will leave you smiling and desperate to dust off the band's earlier albums.
While this old fashioned-new fangled incarnation of Taking Back Sunday doesn't exactly present anything mindblowing, their new material is proof enough that they're back on the right track. Fans will be left eager to see where they go next.
Words by Simon Bland.
Taking Back Sunday will play Leeds Festival's Main Stage on Friday August 26th.  Check out our five things you MUST do at this year's Leeds Festival by clicking here.