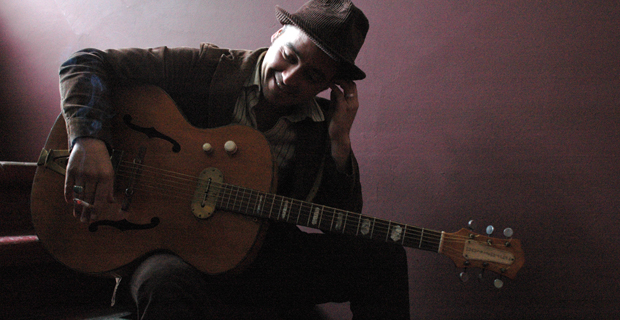 For an Englishman, TD Lind is far from quintessential.  An accomplished songwriter with a vocal ability to create a genuine American blues sound on this, his third album, The Outskirts of Prosper. It is a compellingly raw collection of his undeniable talent recorded live in studio and beautifully put together by producer Alex Gibson.
A well travelled man, Lind began his career with a band touring England before moving to Paris where he spent six months playing piano in jazz clubs. Eventually crossing the Atlantic and arriving in New York, he dotted around the states before settling in the Midwest where he spent almost a decade carving out a career. Nowadays you can find him in Los Angeles; a respected singer-songwriter, husband and father.
Demonstrating his flawless musicianship and showcasing his ragtime, jazz and 50s rock 'n' roll influences, Lind begins with the wonderfully upbeat Pushover Boy Blues. Even if the British weather falters, the sweet lyrics and gorgeous guitar playing on the track make it impossible not to hum along to what is an up-tempo summer song.
Lind demonstrates his versatility as an artist with his vocal ability, transforming from sounding fragile and emotionally vulnerable on the incredibly tender Coming Home to embracing a mid-tempo rocker vibe on Head Over Heels.
Of course, when it comes to this particular genre it's hard not to draw comparisons, and in Lind's case the unpredictable genius Ryan Adams and the melodic Josh Rouse can be heard at certain junctures of the record. But let's be clear, this is not a bad thing. The Outskirts of Prosper has an authentic and clean sound throughout the 50 minutes it plays and is probably TD Lind's finest moments as an artist thus far.
 A musical and lyrical triumph, it ticks all the boxes with powerful love ballads, sing-along country scores, and folk-tinged rock songs. Best bits include Black Dress, a softly spoken love song and the charmingly quirky It's Lovely. 
In fifteen words or less: Music that makes you smile and realise life isn't all that bad.
Words: Aoife O'Connor
httpv://www.youtube.com/watch?v=HfMUWI9jCTk&feature=related
Other Articles
Queens Of The Stone Age Live Review