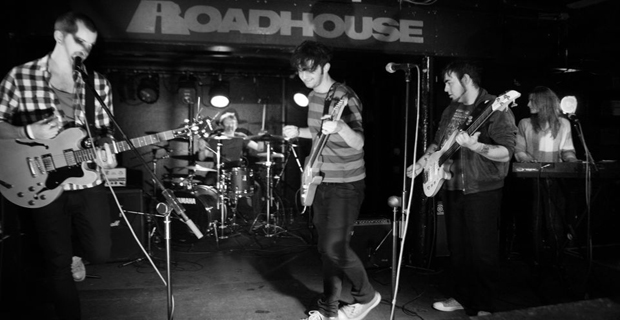 We've got loads of ace stuff for you today. First, Saturday's headlining act Coves made us a mixtape of their very favourite tracks that you can hit up in Spotify and listen to at your leisure. We found that it goes well with a nice cup of tea. True story. If that wasn't enough, we asked our opening act Civilians to spill the beans on their musical influences so you can get a handy crash course on the band before this weekend's Northern Noise Live show. Below you'll find a Andy, Phil, Ben and Daisy's special selections. Enjoy!
Buy tickets for Northern Noise Live: Coves w/ Jaws & Civilians right here.
Andy:
Pulp – This is Hardcore
"This track has always stuck with me when songwriting, the slow build up, then the guitars come in and the brilliant lyrics over it."
 Young British Artists – Lived in Skin
"Has to be one of my favourite songs and they're a brilliant band, I love everything about it, it's raw and energetic and just kicks arse. "
Belle and Sebastian – Expectations
"This song means a lot to me, it was on one of the first albums I really got into and it seemed so different to everything else I heard at the time. It's a big inspiration."
Phil:
Editors – Someone Says
"My guitar sound / playing style is kind of modelled on them."
We Were Promised Jet Packs – Quiet Little Voices
"I've started using a similar song structure when writing songs, I'm really heavily influenced by them at the moment."
Passenger – Wrong Direction
"This is purely because I love the things he writes about, it really hits me on a personal level."
Ben:
Incubus – Sick Sad Little World
"For a drum track this is truly inspiring. Jose's drums are intricate and creative without overshadowing the song. The jam in the middle is sublime."
Bjork – Unison
"During her Homogenic/Vespertine era, she was making rich poetic music with micro-beats in the background, an exercise in subtlety. I love this song and listened to it a lot when we toured Germany."
Muse – Cave
"Muse were one of my first big influences. I learned a lot about dynamic drumming from Dom Howard. This song is raw, fearless and huge."
Daisy:
Laura Marling – Captain and the Hourglass
"Metaphorical emphasis in the lyrics lets you think and interpret, light instrumentation with folk influence = Perfect."
 Los Campesinos – The Sea is a Good Place to Think of the Future
"Monotone vocals with perfectly honest lyrics contrasts with the strings, I love the raised voice in the bridge before the choruses too."
Of Monsters and Men – King and Lionheart
"I love the meaning behind the lyrics "King and Lionheart" and the mix of female and male voices is so powerful with folk-y melody and again a somewhat folk influence means it's automatically in my good books. Brilliant band."
Got your tickets to Northern Noise Live: Coves w/ Jaws & Civilians? No? The head here.
Words and interview by Simon Bland. (@SiTweetsToo)
Be sure to 'Like' us on Facebook and follow us on Twitter to keep up to date with all the latest Northern music news!