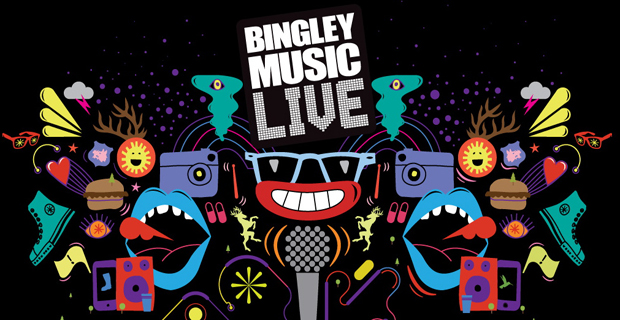 If you're wondering what you're going to do with yourself once Leeds/Reading Festival is over next weekend, fear not.  For tucked away in the town of Bingley, West Yorkshire, is the idyllic scenery of Myrtle Park which, from the 2nd-4th September, will be the home of Bingley Music Live.  The park has played host to countless music events since '91, but in 2007, Bingley Music Live was formed as a fully fledged festival, pulling in huge crowds for acts such as The Charlatans, Happy Mondays, The Enemy, James and Calvin Harris.
In past years, Bingley has brought together an eclectic mix of bands, both world famous and up-and-coming, and this year is no exception. Mixing genres and generations, this festival has music to suit all tastes. Where else would you find a fest where you could go from listening to ragga-metal to radio friendly bubblegum pop to 90's gangster rock?  Headlining the Friday is everyone's favourite New Yorkers to run around and rob bands all wacked off of Scooby Snacks, Fun Lovin' Criminals, Saturday sees Maximo Park topping the bill and closing the festival is Chase and Status.
Interspersed throughout the weekend, the likes of Athlete, Feeder, The Coral and the Mystery Jets will be bringing you the best of the indie music, whereas Skindred and Young Guns bring the noise with their rock/metal sound.  Doing their bit for the ladies is the spectacularly talented Dionne Bromfield, the sassy soul singer with Patti Smith attitude Alice Gold and everyone's favourite Eliza Doolittle.  And if that wasn't enough, Bingley Music Live ensures that local bands get the opportunity to show off what they have to offer, with Thirteen16, State Of Error and Geek opening the festival on the Saturday and Sunday.
Their family friendly ethos means there's no reason not to take your whole family along, kids and grandparents alike, for a fun, fancy dress fuelled day out.  Their website provides all the information you need; from contact details to local campsites for people travelling from afar to lists of all the necessities you need to bring with you, and a list of things they'd rather you didn't. Not only that, but with a Saturday and Sunday ticket costing only £35 and free entry on the Friday, costwise, Bingley Music Live beats its competitors hands down.
With only one stage, this festival offers you the chance to see every band on the bill without worrying about clashes.  Never has a festival been so cheap, so easily accessible, so atmospheric, so inviting.  So make sure you're a part of making this weekend something special.  After all, what else what else will you be doing that weekend?
UPDATE
Important news for all you Bingley Music Live fans who were following our festival preview; tickets are now sold out! Please remember that if you can't get hold of a ticket from any of these  vendors that street-touts and ticket sellers may NOT be valid at the gates. Plus they'll probably be super over priced…
Words by Emma Stone.