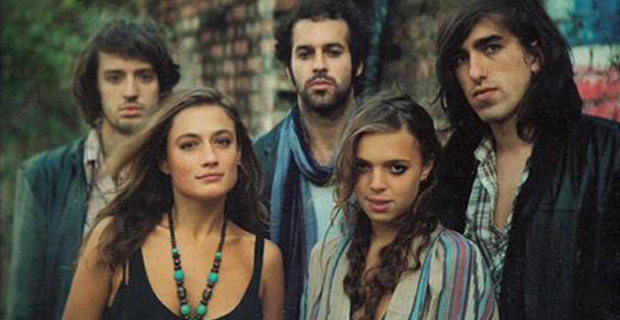 Anyone familiar with Crystal Fighters will surely have noticed the seemingly tireless workload of the London based outfit, whom make "fast dance music with Basque instruments, synthesizers and our voices" . It seems not a day passes without another video, or adaptation of one of their beautifully subtle tracks from debut album Star of Love being uploaded via social media. If it's not the band themselves, it's yet another remix, someone trying desperately to manipulate the stunningly enigmatic sound of the group further, and perhaps testament to their originality, as individuals crave to be associated with them.
Seemingly as at home playing acoustic sets in woods, as they are playing vivacious crowd livening gigs, Crystal Fighters have had ample opportunity to refine both over a summer long festival calendar. With performances at, Glastonbury, plus Reading and Leeds being the band's largest UK shows, not to mention dates accross the continent. Lowlands & Oya and Dockville festivals were but a few of their appearances throughout mainland Europe too this summer.
Playing at Manchester's Sound Control on 15th September, the five-piece will deliver latest single Plage, a delightfully light, summer accompaniment, and the perfect festival sign-off. Champion Sound promises some continental garnish, the albums biggest foray into the Basque folk of the old country, it's both notably animated and charmingly colourful.
The stunningly soft At Home, and energetic crescendo of Follow, make this a gig which promises to take you on an evocative post-festival journey you'll unquestionably enjoy.
Words by Jack Mitchell
Tickets available from:
Piccadilly Records Oldham Street
http://www.ticketline.co.uk/crystal-fighters#tour
http://www.seetickets.com/Event/CRYSTAL-FIGHTERS/SOUNDCONTROL-MANCHESTER/572189