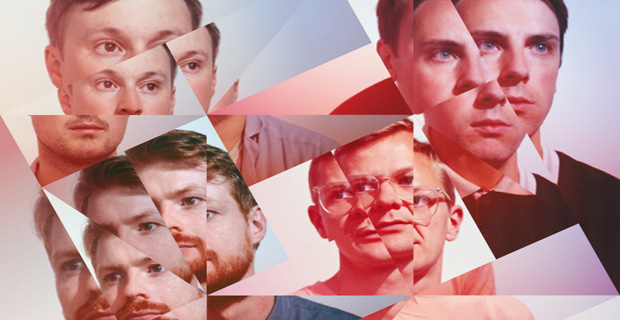 Psychedelic quartet Django Django arrive at The Deaf Institute in Manchester tomorrow a week later than planned. The band was due to play in the Northern capital last week but due to an unforeseen illness they were forced to cancel last minute. With everyone back up and running, this heavily lauded art-pop act will pick up their February tour exactly where it left off. This string of dates comes just a few weeks after the release of their self-titled debut EP, a record that was met with open arms and boasted the unstoppably infectious first tune Default.
Their quirky, left field sound is no happy accident. Instead the foursome are steeped in artistic vision having met whilst at art school in Edinburgh. Since their formation back in 2009 they've been riding an ever increasing wave of positive vibes, receiving praise from the likes of the Guardian and NME and having one of their earlier tracks, Wor, featured in an ad for a Coca Cola energy drink. They're no strangers to taking risks either. In the past these guys have opened for Mr Motivator, dropped off the radar for three years after their debut single Storm and regularly feature low-budget, home made visual effects for their arty live shows. It's no surprise then that their most recent effort is bit of a head-turner. It's a bedroom recorded Do-It-Yourself record, loaded with idiosyncratic, twee pop and plenty of synthy goodness. Expect to see more from Django Django as 2012 plods along and if you miss their Manchester date tomorrow fear not, you'll get a second chance to check them out in October when they set out on their biggest UK tour to date. More details can be found below along with the colourful video for their new single Default.
October Tour Dates:
Southampton Cellar (May 31)
Field Day, London (June 2)
Oxford Academy 2 (5)
Birmingham Academy 2 (6)
No Direction Home @ Welbeck Abbey nr Sheffield (8)
Manchester Parklife Festival (9)
Rough Beats, Clapham (Yorkshire) (10)
York Fibbers (11)
Dundee Doghouse (13)
Leeds Cockpit (14)
Cambridge St Pauls Church (16)
London Heaven (October 31)
Words by Simon Bland.