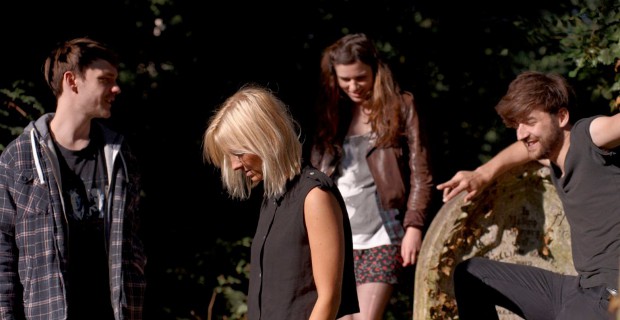 Continuing our previews in the run up to this years Sounds From The Other City festival on Sunday, we've chosen another band to catch while you're there.
Fear of Men was born when Jess (Vocals + Guitar) had been writing and home recording ambient songs as soundtracks to short films when Daniel (Guitar) attended an exhibition of her work. Impressed with her work, Daniel began swapping mixtapes and together they started a project based on their shared love of melody and an eclectic mix of artists such as Daniel Johnston, Pixies and The Chills. Joining Jess and Daniel in the group are Alex (Bass) and Mike (Drums).
Split between Brighton and London, Fear of Men have released two demo collections, and one single, August 2011's 'Ritual Confession'.  We saw the band, who have had favourable comparisons to Veronica Falls, play Trof in Fallowfield last year and our writer David Wright to comment that they "were impressive for the entire set; producing songs worthy of a promising album."
Their shoegaze, lo-fi sounds will be heard at Islington Mill, which this year is being curated by Manchester's famous Now Wave and Off With Their Heads, the group of four has a great stage in which to gain new fans and confirm their status as "one's to watch".
words by Daniel Savage
—————————————
Sounds From The Other City festival is on Sunday 6th May, uniting the cream of the local scene with the finest musicians and club nights. Takes over Chapel Street from 3pm to midnight. Buy tickets here.
—————————————
Also at the Islington Mill:
– Maria Minerva
– Pandr Eyez
– Keep Shelly In Athens
– The Black Belles
– Sunless 97
– Au Palais
– Fear Of Men
– Pins
– The ABC Club